Let me start by saying that station rotations are one of my favourite parts of the day – not only are they a joy to plan, but they also make a huge difference in the classroom. By the end of this post, I'm confident that you'll be convinced to give rotations a try in your upper elementary classroom. Trust me, on this one.
Why you ask? Well, for starters, station rotations make planning a breeze. Plus, they keep students engaged and motivated, resulting in increased work output. And the best part? They give you more one-on-one time with your students, allowing you to better support their individual needs.
#1 Simple Planning
Let's start with one of the biggest benefits of station rotations: simple planning. As a teacher, planning for multiple activities every day can be overwhelming. But with station rotations, you can stick with activity categories and just switch out similar activities, making it easier to plan and manage.
For instance, in my math station rotations, I usually stick to four categories: book work, a review game, math fact practice, and a digital center. Although the specific activities may differ from week to week, the overall structure remains the same. This way, my students know what to expect and can easily transition from one activity to the next. Plus, I don't have to spend hours every week reinventing the wheel when planning my centers.
To make planning even simpler, I use station rotation slides to keep track of my rotation activities and student groupings. This not only saves me time but also helps me to stay organized and on track.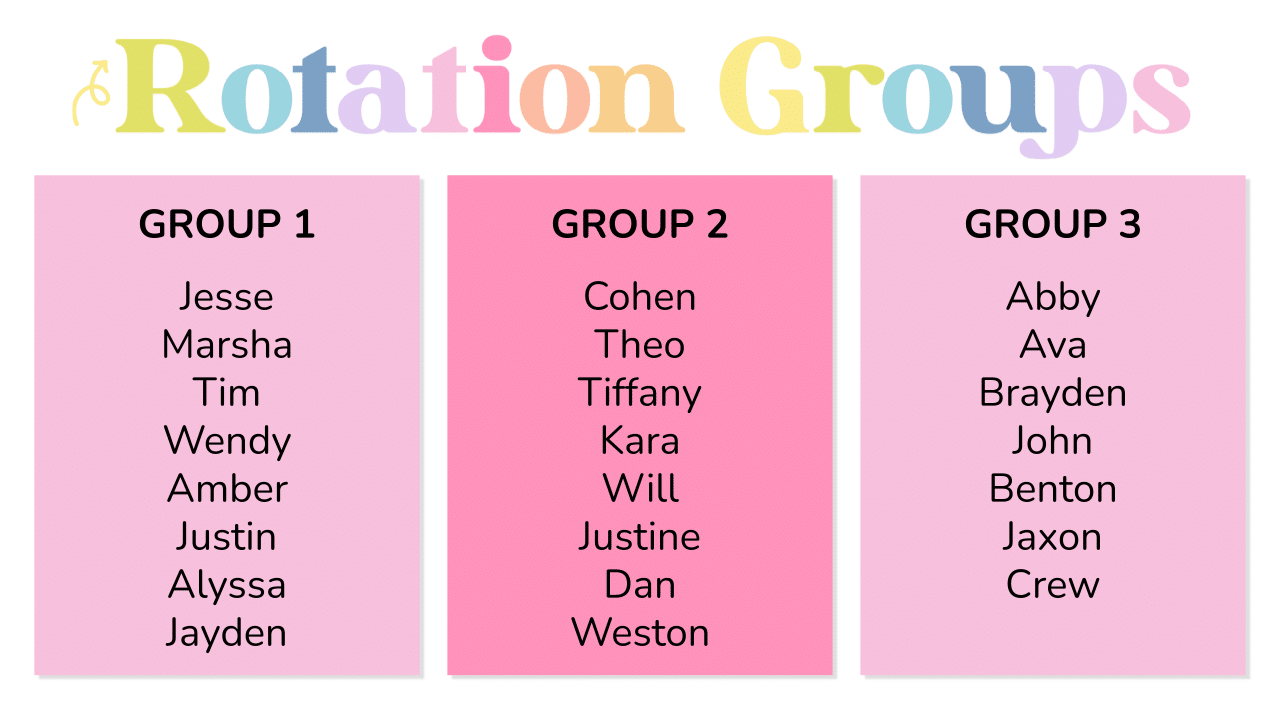 #2 Up That Student Engagement
Let's be real – keeping students engaged can be a challenge, especially when you're teaching the same subjects day in and day out. But with station rotations, you can add variety and excitement to the classroom. In my ten years of teaching, I've yet to come across a class that doesn't enjoy rotations. When students are given the opportunity to switch between different activities, they become more engaged and interested in learning. And when you include activities that they love (like games and technology), their enthusiasm levels up!
#3 Increase Student Work Output
Not only do station rotations keep students engaged, but they also increase work output. By frequently switching between activities, students stay focused and motivated. Of course, it's important to set clear expectations and guidelines for each activity, but when rotations incorporate engaging activities, students often rise to the occasion and work harder. So, if you want to see an increase in student work output, give station rotations a try!
#4 Time to Support Students
My main reason for absolutely loving the station rotations life in my fourth gade classroom? The time it gives me to support your students one-on-one or in a small group.
As a teacher, you know how important it is to work with students in small groups or one-on-one to help them master concepts and improve their skills. With station rotations, you have more time to do just that.
Whether it's meeting with students during math rotations to help them with a concept I taught during that day's mini-lessons. Or, it might mean sitting with a student to improve their reading fluency during literacy rotations. Sometimes, it's having the time to come alongside a student who needs help regulating.
Station rotations give you the flexibility to work with students in a way that best meets their needs. And let's face it – as teachers, we can never have enough time to work with our students. So, if you're looking for more opportunities to support your students, station rotations are the way to go.
I hope you're convinced that station rotations are a game-changer for upper elementary classrooms. If you're ready to get started with station rotations, the good news is that it's easier than you might think. As I mentioned earlier, you can simplify your planning by sticking with activity categories and using station rotation slides to keep track of your rotation activities and student groupings. And don't forget the benefits: station rotations increase student engagement and work output, and give you more time to support your students.
If you still have questions or concerns about running a station rotation, don't worry – I've got you covered. Check out my next post in this series, "Your Questions Answered About Running A Station Rotation in Upper Elementary," where I'll provide answers to some of the most common questions about implementing station rotations in your classroom.