There are many reasons why rotations in Math are the way to go! As an upper elementary teacher, incorporating station rotations into your Math planning can be an effective way to engage your students and promote deeper learning.  In this final post of the rotations series, we will explore 15 simple and practical ideas that you can use right away to refresh your Math rotations. 
But if you're new to running station rotations in your classroom, I recommend starting with the previous posts, Why You Should Try Station Rotations in Upper Elementary and Your Questions Answered About Running a Station Rotation in Upper Elementary.
As mentioned in my previous posts, I prefer to plan for four rotations in Math that I run over a two-day period. This allows me to keep things fresh for my students while maintaining consistent categories for each rotation: Math Fact Practice, Word Problems, Math Assignment, and Digital Math Assignment.
Of course, if I notice that more practice is needed in a specific unit or skill, I may adjust the rotations by doubling up on a particular category for a designated amount of time.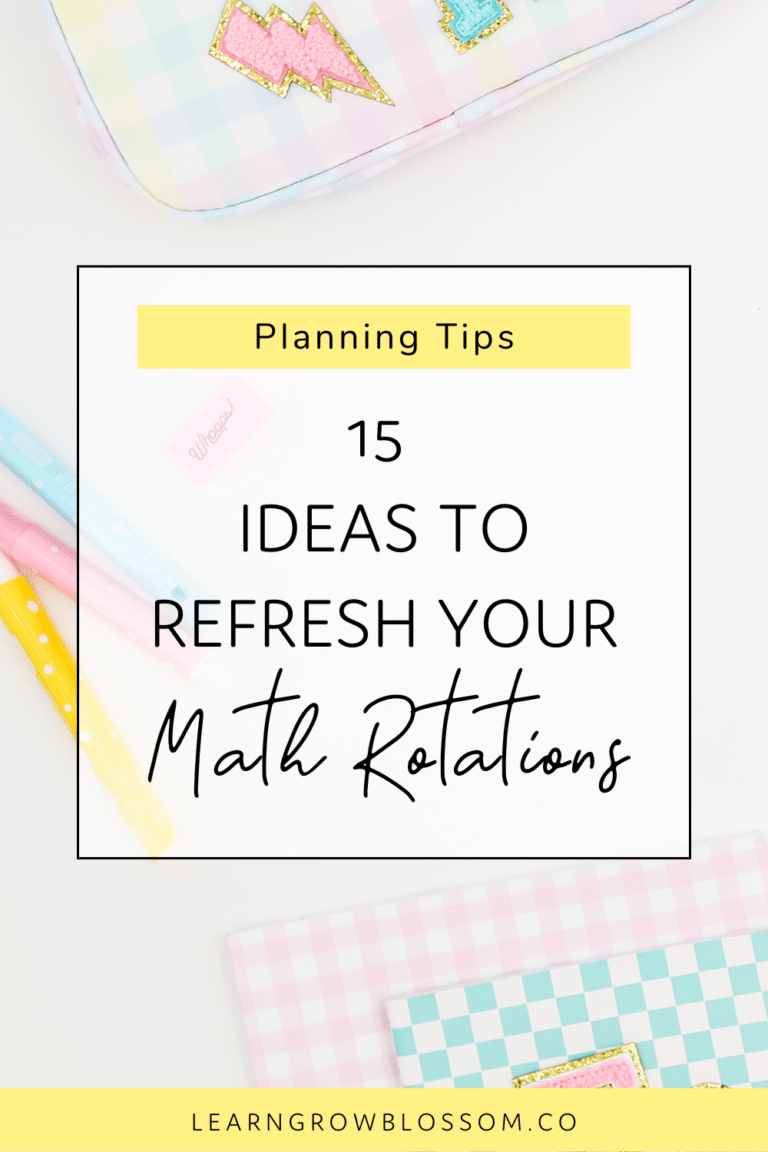 Math Assignment
A critical component of my Math rotations is the math assignment. It's always tailored to our current unit and can take many forms, such as a worksheet or a page from our textbook. During this rotation, students have the option to come to the teacher's table to work with me, if they need support. I check this assignment as students finish to give them feedback and also to get a sense of how students are mastering the concepts taught.
Digital Math Assignment
To give my students additional practice with our current unit, I always include a digital math assignment in our rotations. This assignment could be a set of digital centers, or it might be a specific task assigned through Google Classroom.
In addition to creating my own assignments, I've found several websites that offer great practice opportunities, including Gimkit, Blooket, Kahoot, Mathletics, Prodigy, and IXL. By incorporating digital assignments, I'm able to provide a variety of learning opportunities that meet the diverse needs of my students.
Math Fact Practice
As an upper elementary teacher, you know that mastering basic math facts can be a challenge for some students. That's everyone's experience, right? To help students improve their math fluency, I include a math fact practice category in my rotations in math.
To keep it fun and fresh, I vary the methods we use to basic math facts. Using math fact games is always a hit. There are tons of free ideas out there using dice, cards, board games, etc. I've also had great success with math games from Box Cars & One-Eyed Jacks. 
In addition to games, there are also plenty of websites and apps that can help students practice basic math facts. Some of my favourites include 99 Math, Xtra Math, Boom Cards, Blooket, Prodigy, Gimkit, and Kahoot.
Word Problems
Just like with math fact practice, regular practice with word problems is crucial for students. To keep things fresh and engaging, I vary the types of word problems and the resources we use to solve them. I've found great resources for task cards and math projects on TpT, which I often use for rotations in math.
To promote deeper thinking and reasoning, I prefer to use pencil and paper tasks for word problems. This helps students to work through their thought process on paper and build their problem-solving skills.
Examples of Rotations in Math
Below you'll see examples of rotations in math in my grade four classroom.
Want these slide templates that include these rotation slides? Check out my class slides on TpT.
In conclusion, incorporating rotations in Math is a great way to keep your upper elementary students engaged and mastering key concepts. I hope the ideas and activities I shared in this post have inspired you to try something new and exciting in your classroom. The possibilities for Math rotations are endless and that's the most fun part about them (IMO).
And if you're also looking for ideas for your literacy stations, don't forget to check out my post on Ideas for Your Literacy Stations and Literacy Groups in Upper Elementary. Happy teaching!