Running a station rotation in upper elementary is truly game-changing for yourself and your students. If you're on the fence about that statement and still need to be convinced, head over to read my first post in the series, Why You Should Try Station Rotations in Upper Elementary.
Now you're probably itching to get started with this teaching method. But if you still have some questions or concerns about how to make it work in your classroom. Don't worry, I've got you covered!
In this post, I'll be answering some of the most common questions I've received from fellow teachers about running a station rotation. Whether you're wondering about logistics, management, or student engagement, I'll provide tips and insight to help you implement this teaching method successfully.
If you're already on board, then let's dive in!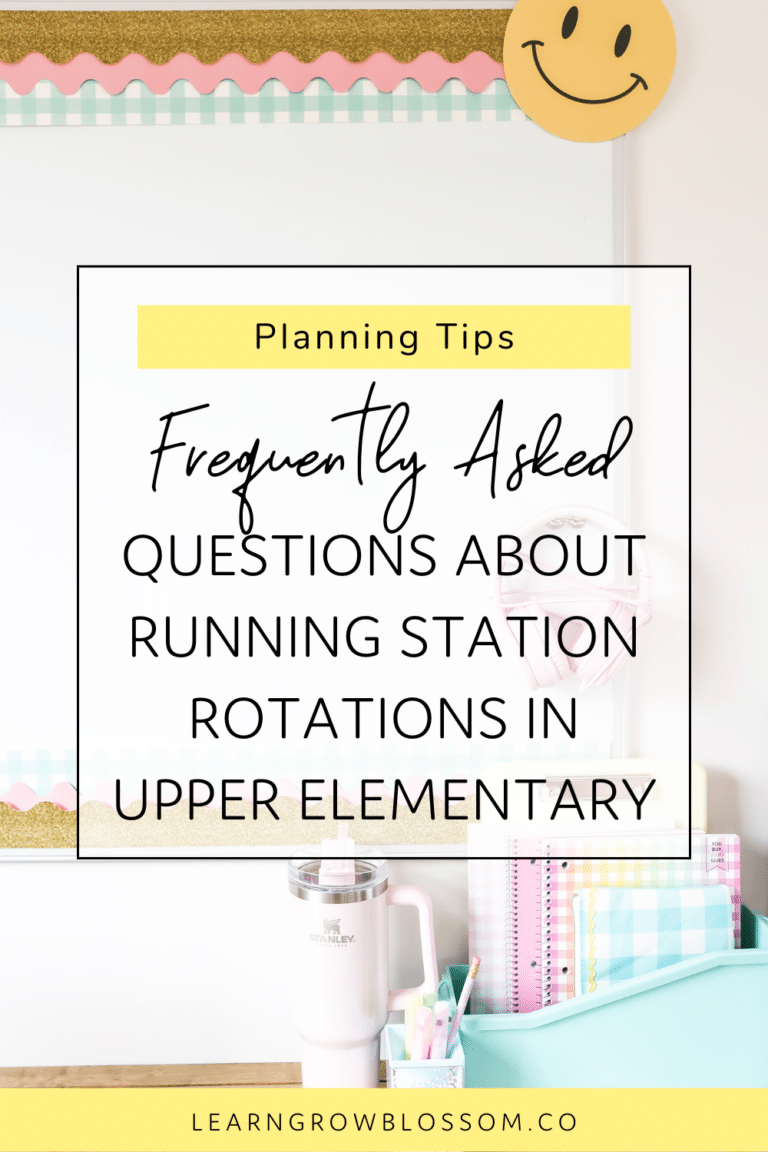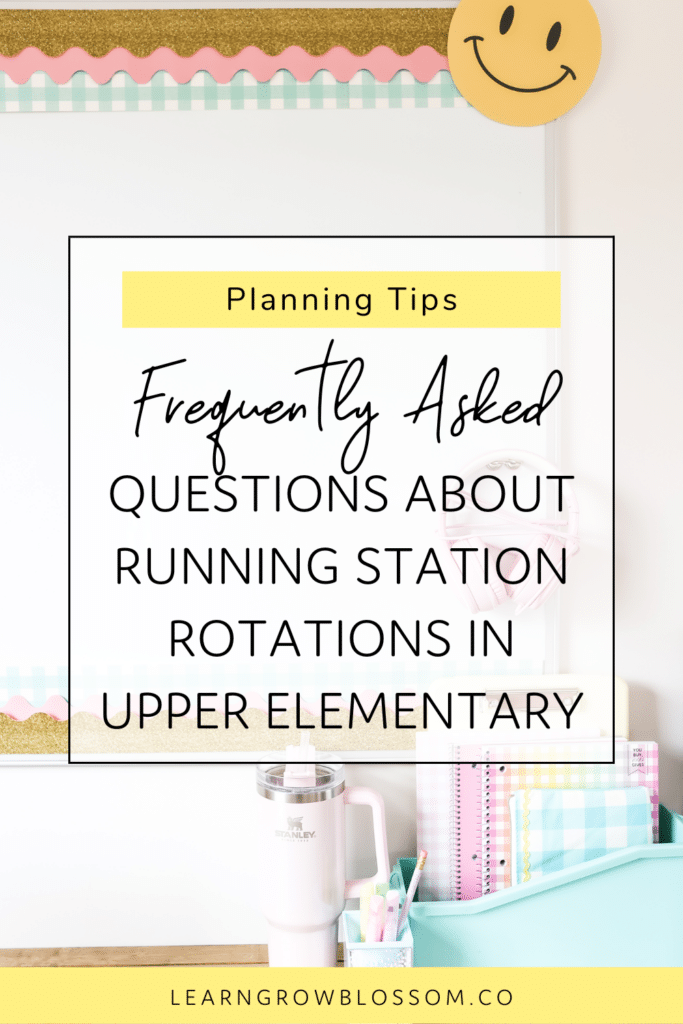 How many stations, in total?
The number of stations depends on the subject and the tasks at hand. For literacy and numeracy, I usually have four station rotation activities, but I spread them out over two days so that students can complete two rotations each day. This gives students enough time at each station to make the most of their learning experience.
I also use "halfsie rotations" when necessary. This is when I split the class in half, with one group doing task A and the other group doing task B. Halfway through the time, they switch. This is especially helpful when we don't have enough tech for all students to use at once, so I'll have one group working on a task that requires access to Chromebooks (e.g. Mathletics), while the other group works on a paper and pencil task (e.g. Math workbooks).
There is no limit to the number of station rotations you can have, but it's important to consider how many rotation activities you have and how many students you want in each rotation before deciding on your number. Generally, anywhere from two to five rotations is manageable.
How many students per station rotation group?
I prefer to have an equal number of students in each station rotation group. This way, if there's a particular rotation that I want to support, such as reviewing the day's math concepts, I have an even number of students cycling through that rotation.
To determine the number of students per group, I divide my class based on the number of rotations for the day and the time available. For my standard literacy and numeracy rotations, I usually have about 6-7 students spread across 4 groups, depending on the class size for that year.
How do you decide your station rotation groupings?
There are several ways to determine station rotation groupings. Students can be grouped based on factors such as their ability level, social dynamics, or with mixed skill levels to encourage mutual support.
For literacy rotations, I usually group students by reading level since I have guided reading as one of my rotations. This enables me to work with guided reading groups while the other students engage in other literacy tasks.
For math rotations, I tend to create groups of students with mixed abilities to foster a supportive learning environment. At the start of the school year, I teach students how to assist their peers when they are struggling. This is incredibly helpful during rotations as students who have mastered a concept can help guide those who need extra support. This approach also allows me to provide targeted support to smaller groups of students.
When creating station rotation groupings for other subjects or a combination of subjects, I typically create groups randomly. Some ideas for random groupings include letting students choose, drawing numbers or colours, using a random name generator, and other similar methods.
When do you teach lessons?
To keep direct teaching brief and engaging, I usually teach in mini-lessons. This format works well in a station rotation model as I can teach a mini-lesson before, between, and after rotations, if needed. This gives me three opportunities to teach mini-lessons in one block.
What does your station rotation schedule look like?
My literacy block is 90 minutes, which is longer than my math block of 60 minutes. Here is a sample schedule for each block:
Math (60 mins)
Mini Lesson #1 (10 mins)
Rotation (20 mins)
Mini Lesson #2 (10 mins)
Rotation (20 mins)
Literacy Block (90 minutes)
Writing Lesson (30 mins)
Rotation (20 mins)
Mini Lesson #3 (10 mins)
Rotation (20 mins)
Mini Lesson #2 (10 mins)
Please note that these outlines are flexible schedules. If a longer lesson is needed, such as when starting a new unit, I may combine mini-lessons to teach one longer lesson between rotations.
How do you keep track of the rotation activities and groupings?
To keep myself and my students organized during station rotations, I plan and display the rotation activities and groupings on my daily class slides. This way, I have a clear outline of the day's schedule and can project it for the students to easily see which rotation they are on. Additionally, I include a timer on the slide to help students manage their time efficiently during each rotation. This system has been very helpful for keeping everyone on track and making sure we get through all of the activities planned for the day.
Want these slides for running a station rotation? Click here to grab them to ease your station rotation planning.
In conclusion, station rotations can be a highly effective and engaging way to structure learning in your classroom. By providing students with a variety of activities and opportunities to work with different classmates, you can promote skill-building, collaboration, and independent learning.
Whether you're looking for new ideas to refresh your literacy stations or seeking inspiration for your math rotations, there are many creative strategies and activities to explore. Be sure to check out the next two blog posts in the series: "Upper Elementary Ideas for Your Literacy Stations and Literacy Groups" and "15 Ideas To Refresh Your Rotations in Math That You Can Use Right Away" for more tips and tricks.