Who doesn't want a morning classroom routine that starts everyone off with positive vibes and calmness? Morning slides help you do just that. They allow you to share information or announcements with students, right away. But, the kicker is that you're still free to greet your students as they walk in and take care of any last-minute tasks as the day begins.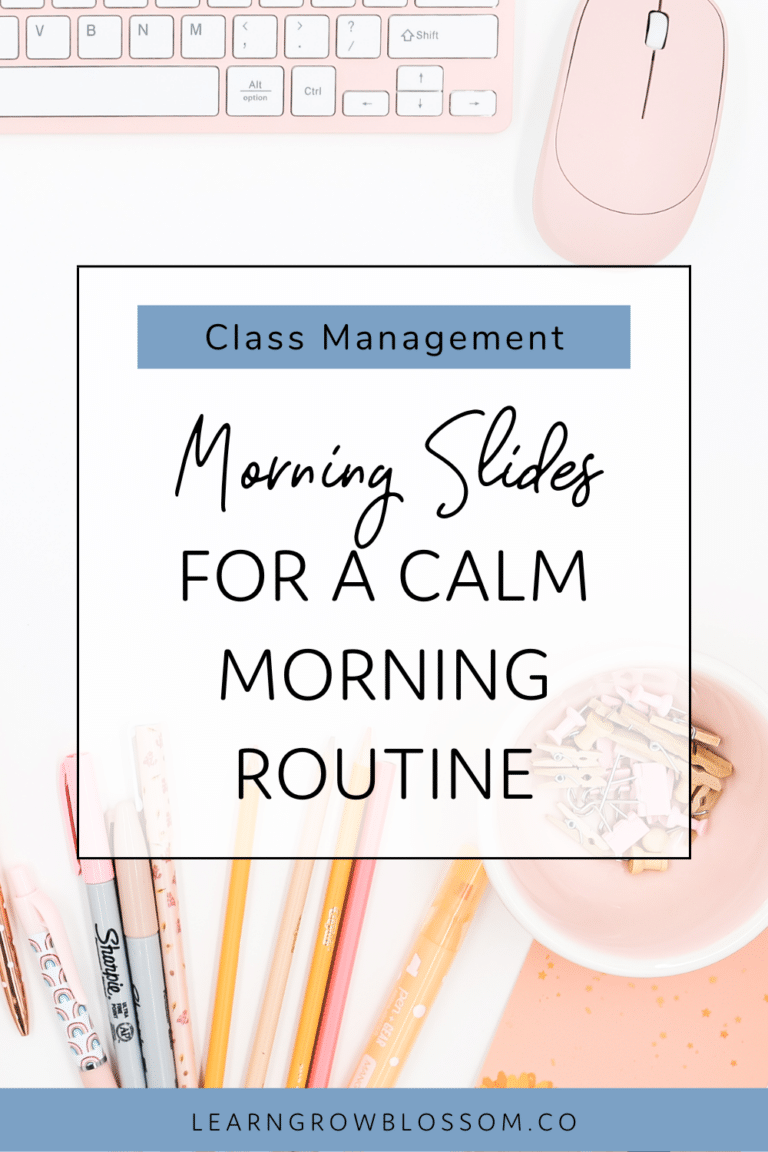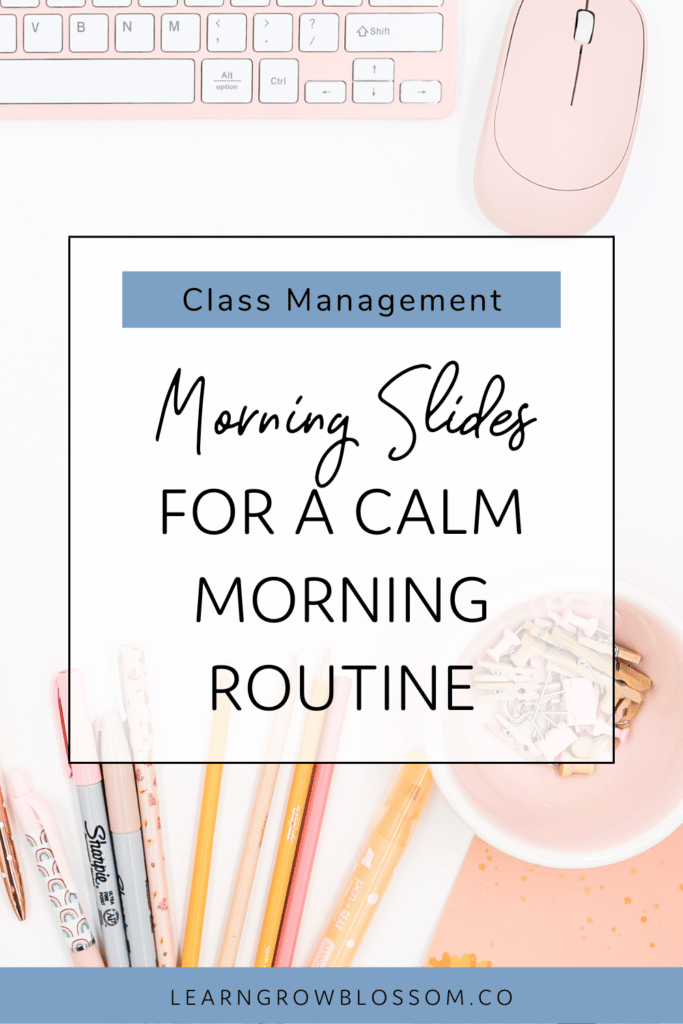 Build Morning Slides Into Your Morning Classroom Routine
Morning slides are most effective when your morning classroom routine is built around them. That involves two things: creating your slides with intentionality and prompting your students to refer to the slides to get the information that they need.
Intentionally Create Morning Slides
When writing your slides, consider what you need students to know or will ask questions about as they enter. This includes schedule changes for the day, anything that's due, and what they should work on as they come in.
Anticipating any questions that students will have and writing your morning slides accordingly will contribute to a calming morning routine in the classroom.
Remind Students to Refer to the Slides
To get students into the routine of looking at the morning slides as they enter, remind them to do so for the first week or so that you use morning slides. 
As a rule of thumb, if you want them to refer to the slides, do not answer questions regarding the information that's on the slides. If you do, some students won't read the slides but will proceed to ask you about upcoming events and what's due, anyways.
We all have those students, right?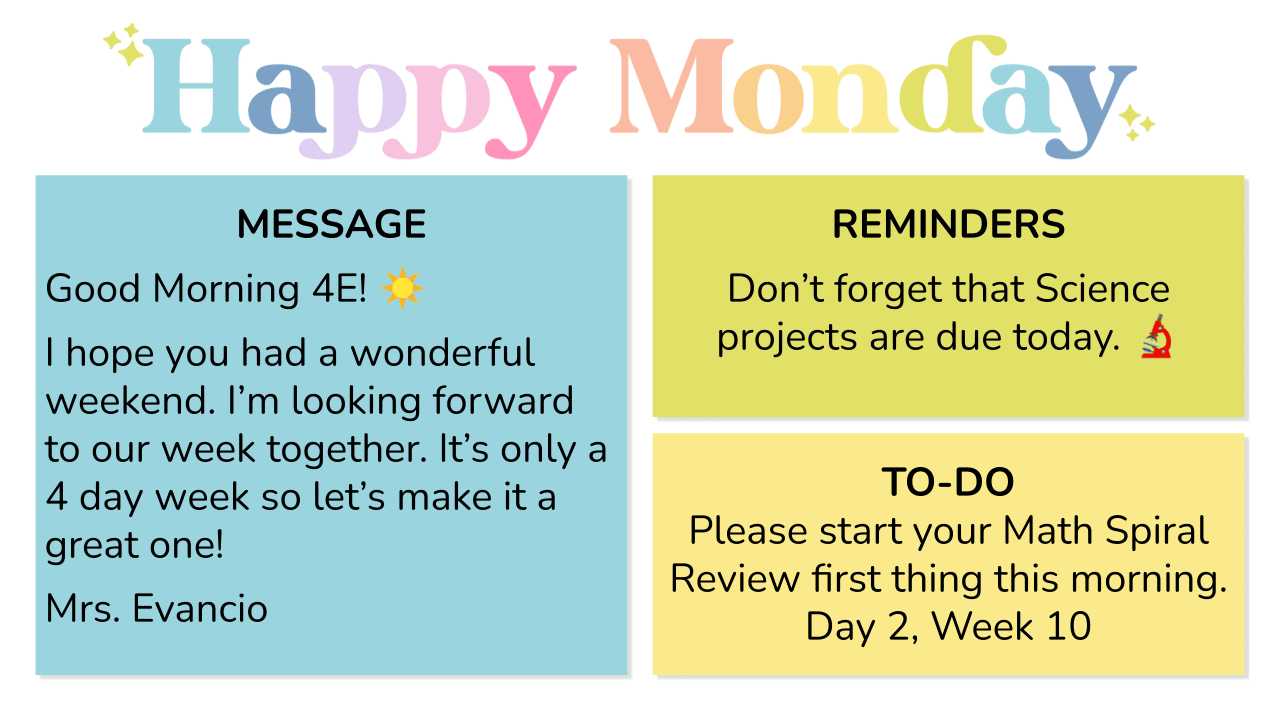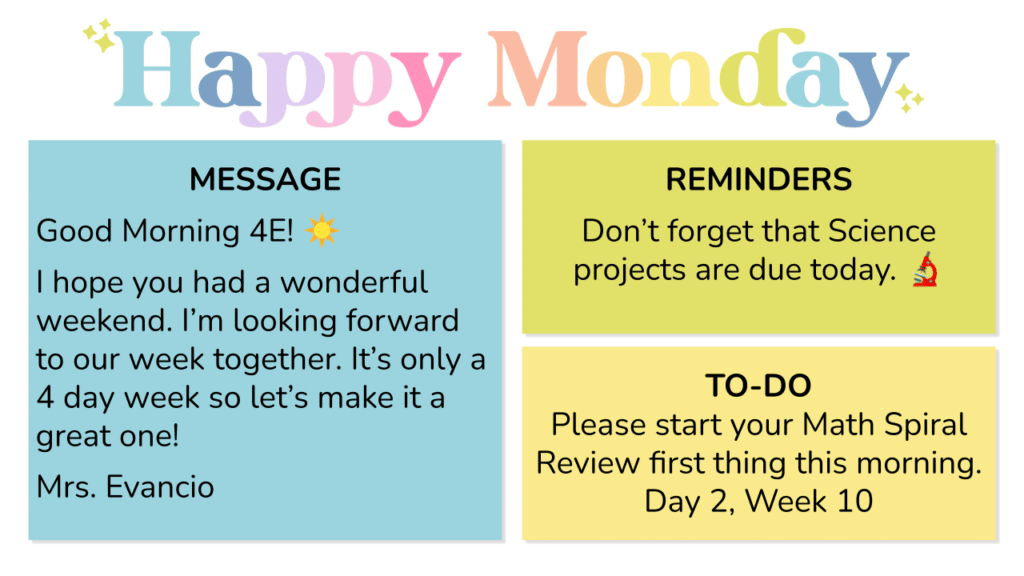 It's also good practice to set aside time in the morning, during your morning meeting, to answer any questions that have come up. This gives students a chance to ask these questions which will encourage them to save questions for that time.
Another way to encourage students to refer to the class slides is by dishing out positive reinforcement. I take note and thank students who have referred to the morning slides and are following through with any instructions given on them (e.g. "Work on Week 3, Day 2 of your Spiral Math Review.") It's time to use that points system here, if that's up your alley!
Ways to Use Morning Slides
There are lots of different ways to use morning slides. You can use them to communicate what you'd like students to work on, upon entry. Whether that's bell work or soft start activities. Include a timer on the slides so that students are aware of how much time is left for the morning work or activity. 
Morning slides are a great way to communicate the day's schedule, especially if there is a schedule change or an out-of-the-ordinary event coming up.
Including a morning message as part of your slides is a great way to spread a little love, first thing. You can also use your morning message slide to lead into your morning meeting, if this is part of your morning classroom routine.
Read more on morning meetings as part of your morning classroom routine in upper elementary.
Morning Classroom Routine Example
As part of our morning classroom routine in fourth grade, I start the morning with dim lights and a morning slide on the Promethean board. Students move their attendance magnets by answering our morning attendance question and then reading the morning slide and getting started for the day.
During this time, most days, I greet students as they enter the classroom while sipping my coffee. On the odd day, I might be finishing up a quick task like changing the daily schedule. Changing the schedule seems to be the thing I forget if I'm dropping the ball.
Below, I'll show you a few examples of what my morning slides might look like and what our morning classroom routine would be like, based on those slides.
Morning Slide Example #1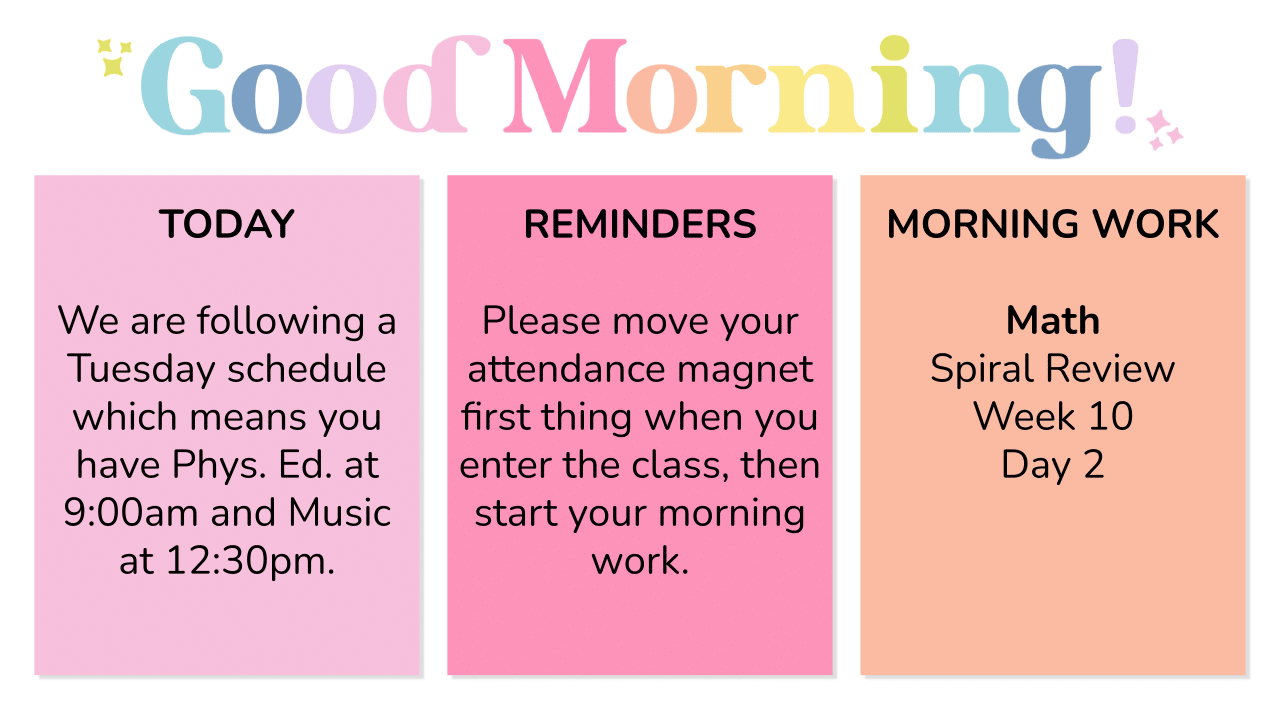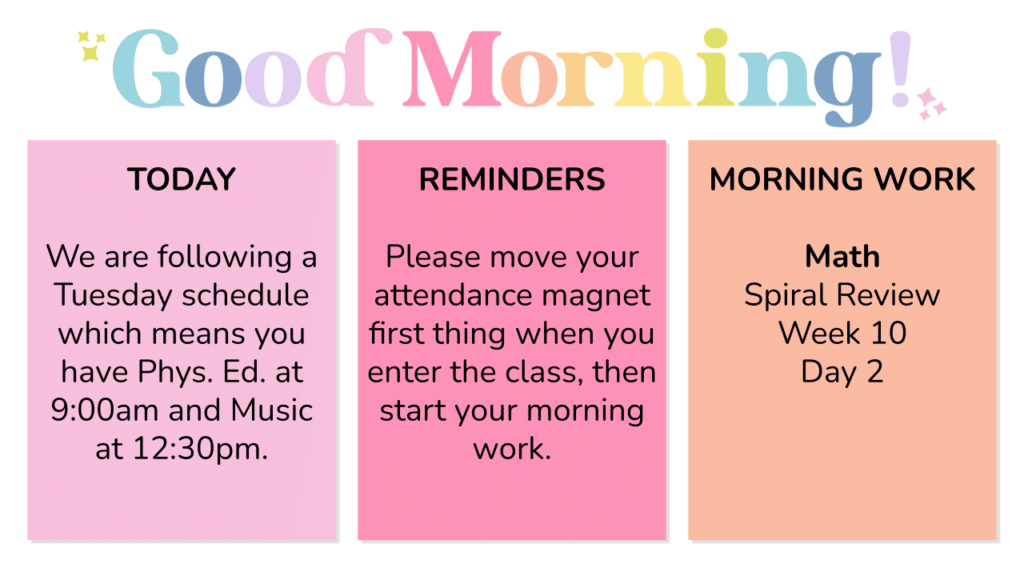 In this morning slide example, I share that it's a Tuesday schedule. I make sure to include which specials students have that day as that is always the hot topic every morning. I also shared a reminder to move attendance magnets. This is to hopefully avoid reminding them to do it. Then, I list what they will be working on for morning work so that they can get started right away.
Morning Slide Example #2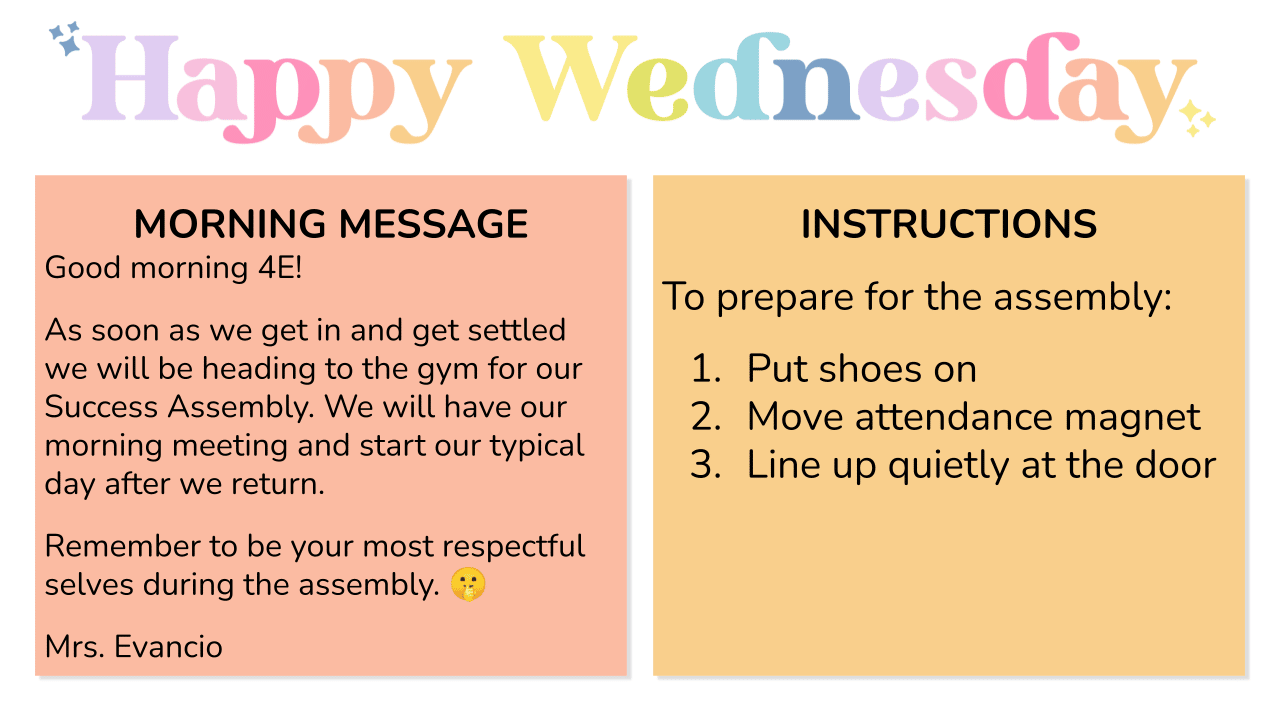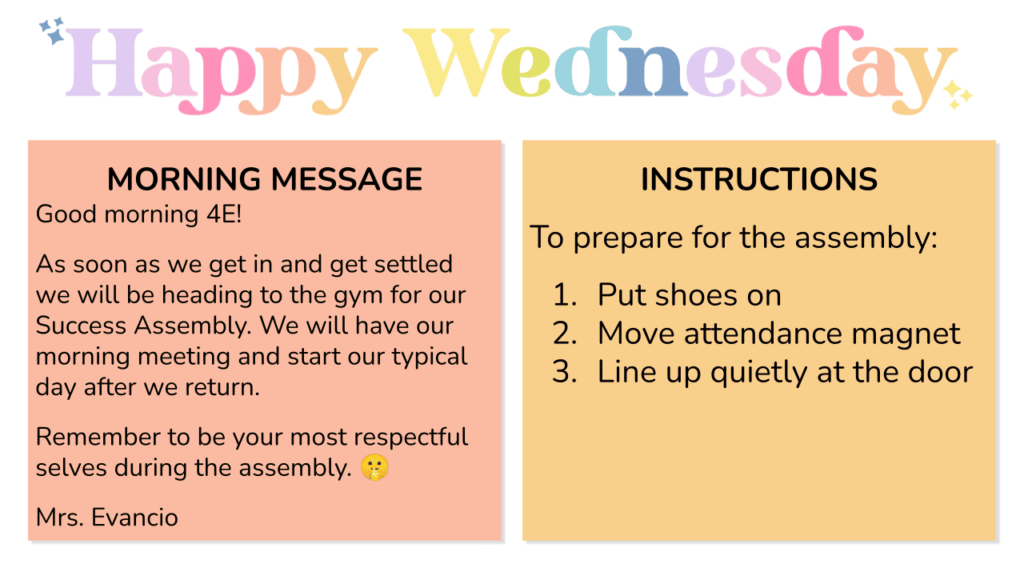 In this example, I am announcing a schedule change to students. Since we wouldn't be following our typical morning routine, I give them instructions on what I'd like them to do instead (get ready and line up for the assembly). Having these morning slides up has them follow the instructions independently. It also avoids questions about what we will do after the assembly (morning meeting).
How Slides Lead Us Into the Rest of the Morning
After the initial entry and start of the day, morning slides don't stop there. You can continue to use slides to lead you into the rest of the day. In fact, you can actually use daily slide templates to facilitate the entire day in your classroom.
After your initial slide that includes info the students need to know right away, create a few more slides to run the rest of your morning classroom routine.
After that first slide, insert a slide for the day's schedule, a review of expectations (because we all need to do this once in a while, right?), and morning meeting. After that, you can launch into your first subject which you can use slides for, too!
Morning Slide Options
DIY Morning Slide Templates
There are quite a few free websites where you can create your own slides. A few that I've used in the past are:
Done For You Morning Slide Templates
Want slide templates that you can use in your morning classroom routine, right away? I created these slides with all the templates you need: daily slides, morning slides, subject-specific slides, and daily agenda slides.
Grab these 200+ slide templates to save you a whole lot of time so you can get started right away!
You might be interested in reading Why You Need To Start Using Teacher Slides and 9 Tips to Get the Most Out of Daily Agenda Slides.