In the world of effective classroom management, the house system is a strong class management system that encourages participation, student leadership, and engagement. With each house making up an important part of your overall class family, this classroom management system is sure to help your management while also making students feel valued and celebrated.
In this post, you'll learn the ins and outs of the house system, from understanding how it works to maximizing the benefits of a well-structured classroom management system. Let's get started, you'll be one step closer to transforming your classroom into a thriving and vibrant community.
What is a house system?
A house system is a classroom management system where students are grouped into distinct houses, each representing specific character traits. Students earn points for their respective houses through positive choices that they make such as lending a helping hand or showing determination when completing a class assignment.
This system incorporates teamwork and friendly competition which is very engaging for upper elementary students. At the end of the week (or month) the house with the most points earns a reward. Rewards can be anything from getting to choose something from the class prize box, class sticker shop, or a student reward coupon.
The Benefits
Fosters a Sense of Belonging: With this classroom management system, you'll see your class turn into a true family. Students really connect with the members in their houses and learn to look out for one another.
Encourages Teamwork: Through house meetings, students learn the value of collaboration. They support each other in their academic and personal growth.
A Sense of Responsibility: Being part of a house instills a sense of responsibility in students. They take pride in contributing to their house's success, which is a motivator to make positive choices.
Enhances Classroom Management: A well-implemented house system complements your overall classroom management plan. It provides a structured framework for recognizing and rewarding positive behaviour.
Fosters Character Development: Since students apply for houses which represent a character trait that they see in themselves, the system encourages students to show these positive qualities.
Getting Started
Decide how you will incorporate the house system in your class. Consider things like how many houses you'll have, how often points will reset, and what students will earn as rewards.
Prep your materials and set up the house display. For example, print out student applications and set up your house system display where you will tally house points.
Introduce the house system to your students. Explain to them how the system will work. Make sure to go over things like how houses will be chosen, what the houses are, how they can earn points, and what the winning house gets. Using a slideshow to do this introduction is a great option.
Students apply to the house they resonate the most with. As applications roll in, you can start splitting students up into houses, aiming for an equal number in each house.
For the grand reveal, build anticipation by keeping the students in suspense about their assigned houses. Consider covering the display board and making a dramatic reveal to add an extra element of excitement.
By using a house system in your class, you're not just aiding your classroom management but you're fostering that family feeling that strengthens your class community. Through friendly competition, teamwork, and a sense of belonging, the house system is a system that your students will be motivated to participate in, trust me!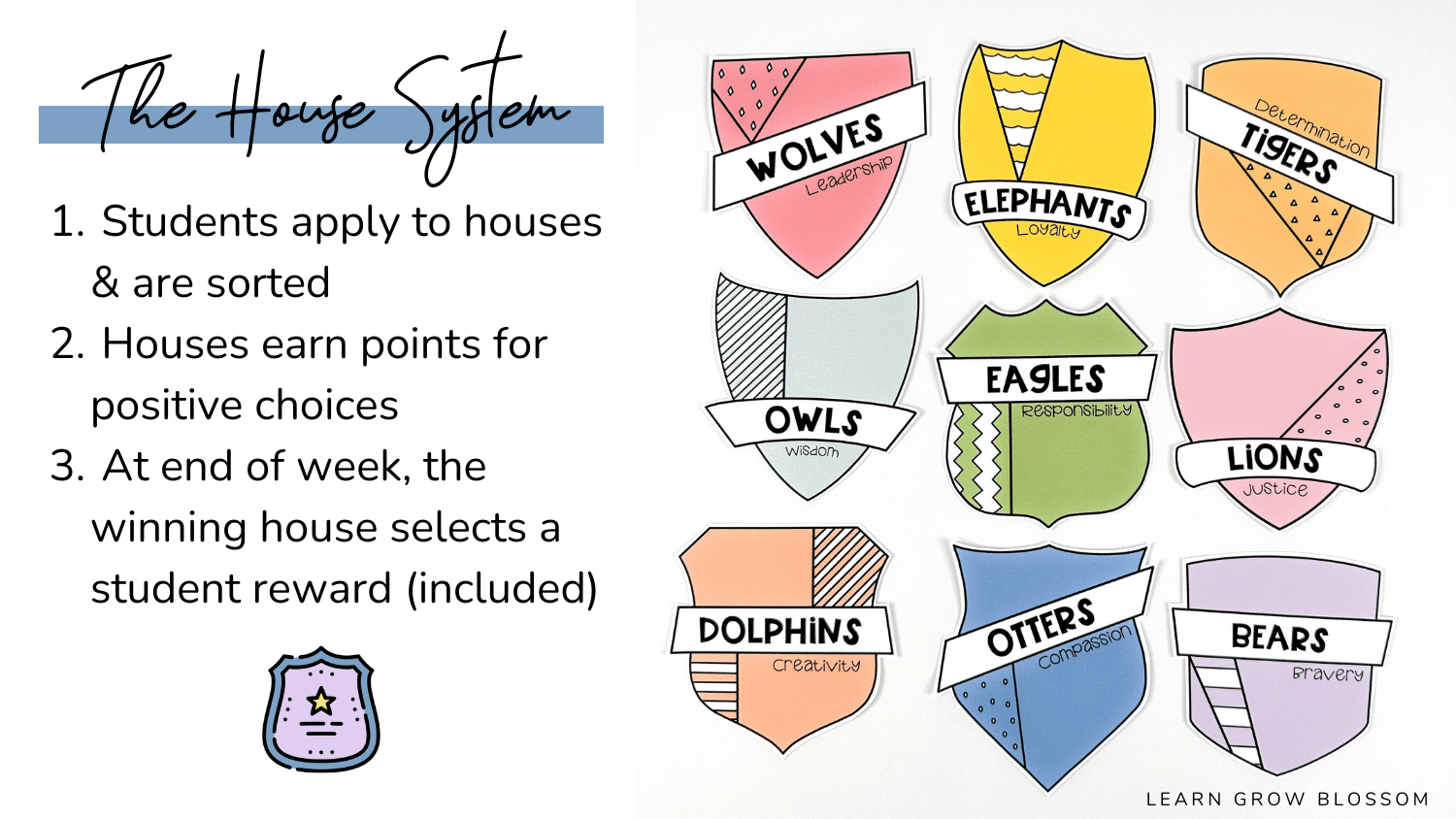 The House System
Why wait? Give it a shot! I've created a house system resource with everything you need to seamlessly implement this classroom management system. From captivating slides to launching the system with your students, to vibrant bulletin board elements and student house applications, you're all set. Elevate your classroom management and community by grabbing the house system resource.
Level Up Your House System
Want to learn more about using this classroom management system to its full potential? Check out the next post in the series, House System 201: Elevate Your Classroom Management Tool.