Two Part Classroom Library System
This Classroom Library Checkout System came into existence because I wasn't able to find the perfect system that suited my needs. I was on the search for a spreadsheet that could be accessed from anywhere and that was easily shareable. It wasn't easy to find a classroom library system where books could be categorized in many different ways, notes could be added for how certain books are used, and keeping an up-to-date book wish list.

The solution? I made one!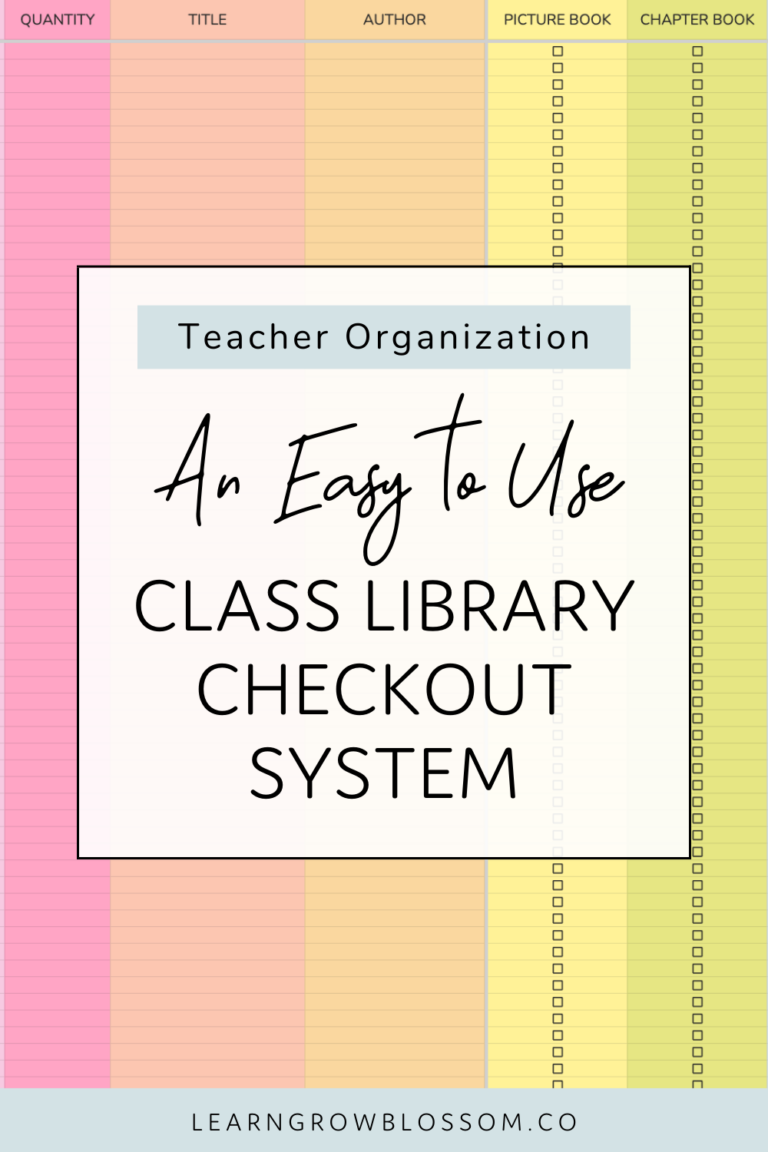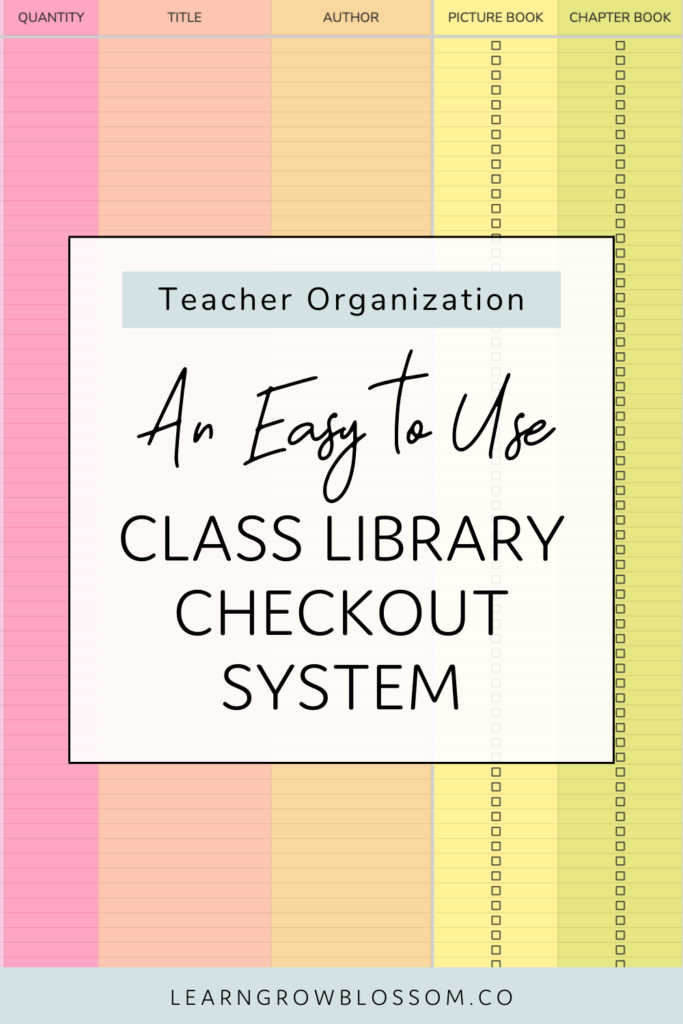 This classroom library system has two parts. The first part is a classroom library inventory spreadsheet using Google Sheets. The second part is the classroom library checkout system using Google Forms or a classroom library checkout sheet that students fill out.
This classroom library inventory spreadsheet is created in Google Sheets. It can be edited and viewed anywhere. This is especially convenient when you're book shopping at a garage sale, Facebook Marketplace, or used books store. You can quickly check which books you have in a series or if you need more copies of popular book club books. Learn more about how you can grow your classroom library here.
Shareable
Easily share this classroom library checkout system with anyone, including co-teachers, educational assistants, and students. Giving your students viewing privileges allows them to search for books so they can do this independently. This helps them search book availability as well as locations of classroom books.
Sharing the classroom library checkout system with students will help them to be able to find books within the classroom library. In upper elementary, fiction books are often organized by authors' last names. Since students may not know the author of the book they are looking for, they can easily find out using the class library system. This is a big help as they select books for their Daily 5 book boxes or for independent reading.
Categories
Search and sort within the spreadsheet by any of the headers by sorting from A-Z or Z-A. The headers included are: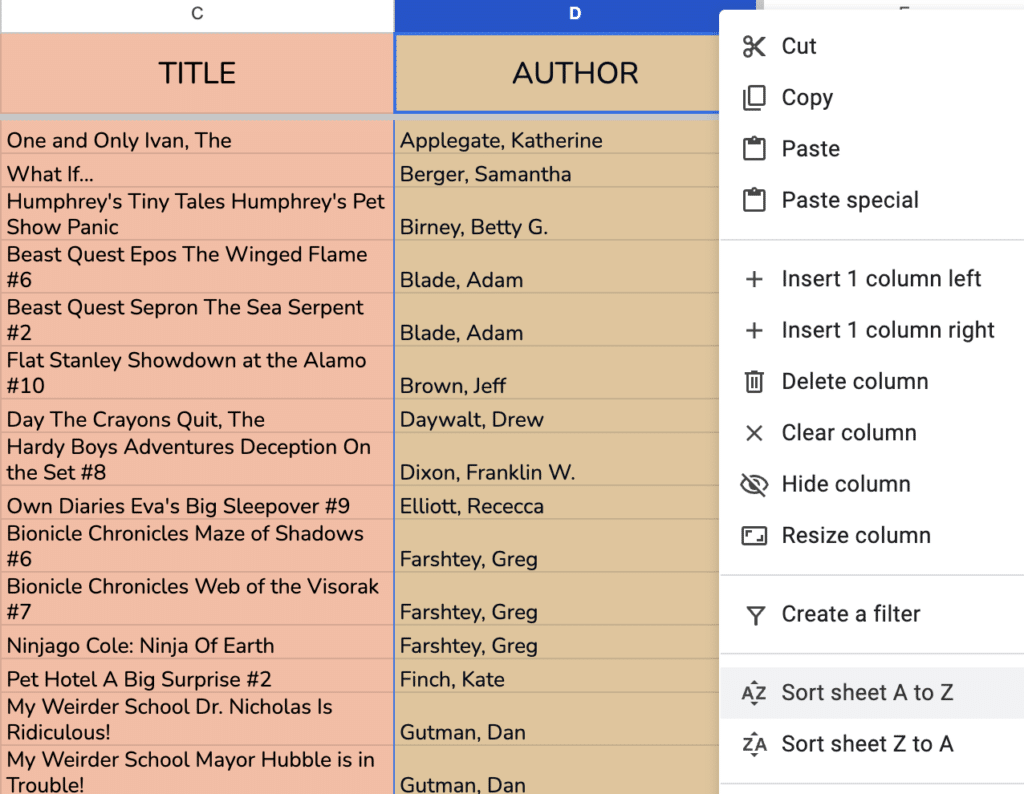 Checked out
Title
Author
Picture book
Chapter book
Fiction
Non Fiction
Genre
Series
Location
Level
Mentor Text
Book Type
Tags
Topic
Subtopic
Notes
Another great feature of this classroom library checkout system is being able to categorize books you often use as mentor texts. After reading The Writing Thief, I became even more motivated to use mentor texts to supplement my writing units. I have tagged the books I plan to use by adding a specific note for which unit and what strategy they go with. You can then search those mentor text tags to easily find those books when you need them.


Customizable
Choose between the colour version or the white version with colour headings.

You can also resize or delete any headers. Within the spreadsheet, there is a separate sheet to create codes for tags, topics, and subtopics to easily categorize books and search within those categories. See possible code examples below. These are completely editable since codes will vary greatly teacher to teacher.
Wishlist
A wish list sheet is included in order to keep track of recommendations, books missing in a series, desired mentor texts, etc. A book wish list is excellent to have on hand while you're book shopping and to share with others. Student parents sometimes reach out wanting to support the class by donating books or the school might be willing to purchase books for classroom libraries. In these cases, having a current wish list available is useful!
Classroom Library Checkout System
Classroom Library Checkout Template
If you wish to have students check out books from your classroom library, they can do so in two ways. The first way is to have students complete checkout on a hard copy by filling out the classroom library checkout sheet.
As students check books out, you have the option to type in their name and the date in the check out column of the classroom library checkout system spreadsheet. This allows you to keep tabs on your inventory, if you wish to do so. Names and dates can be erased as students return books to your classroom library return bin.
Digital Classroom Library Checkout System
The second option to have students check out class books is to have them fill out the digital classroom library checkout sheet via the Google Form.
Form responses are automatically populated into the classroom library inventory spreadsheet so everyone can see which books are currently checked out. Once books are returned to the return bin, the checked out books can be checked off on the list.
The Classroom Library System
Want a system that finally supports you in organizing your classroom library? This Classroom Library Checkout System will help you do just that. By grabbing this class library system, you'll get the inventory spreadsheets, the wishlist, a tutorial video, a printable student checkout sheet, and the student checkout Google Form. All of this is totally editable, so you can change it to suit your needs.
Developing this classroom library checkout system was my last step in revamping my classroom library. First, I worked on building up my book collection. Here's how I find cheap classroom library books. Second, I relabelled my entire library and organized it by author's last name. Luckily, my students helped me with this big job. Lastly, I input all of my books into the Classroom Library System to facilitate finding books for both myself and my students. I had a few student leaders help me input books. With some training, they were a huge help!