I've always been on the hunt for Valentine's Day activities for school. I wanted something to spread kindness and make each student feel valued and seen.
Teachergram Inspiration
Recently, I was inspired by photos on teachergram of messages written on classroom whiteboards. You can see an example of what I saw below. Seeing these photos sparked a desire to create something that would embody great classroom discussion and community building.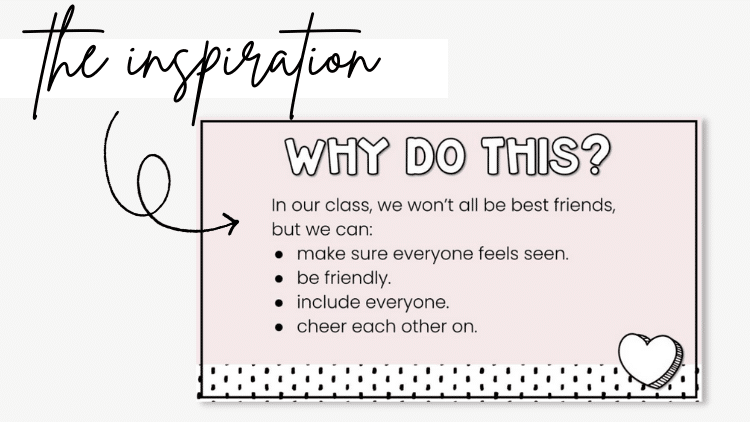 Along with that, I wanted Valentine's Day activities for school that would be easy for elementary teachers to do in their classrooms. I always wanted the activities to be meaningful for students.
A Special Keepsake
As this idea was brewing, a memory hit me. Over winter break, when celebrating Christmas with my husband's family, my husband and his brothers opened up time capsules. These time capsules had assembled over twenty years prior.
In my husband's time capsule was a keepsake from elementary school where each of his classmates wrote something that they saw in him.
We got such a kick out of reading those messages. They were a great representation of who he is, to this day.
Then, It Hit Me
My idea for my new Valentine's day resource hit me.
I knew that I wanted to create a resource where students would make a similar keepsake (but make it cute) for them to cherish for years to come.
Along with this Valentine's day keepsake book, I incorporated lesson slides. The slides teach students the benefit of spreading kindness and help to lead a discussion about helping your classmates feel "seen" and valued.
I was SO excited to create this resource that I finished it in one day.
The Result
If you're looking for Valentine's Day activities for school that are equally as meaningful as they are easy to implement… check out the Valentine's Day Books.
The best part: it includes a page for a note from the teacher. That means that writing a Valentine's Day card from the teacher is checked off your list, too!