And writing this makes me breathe the biggest sigh of relief.
A heads up to my readers: this is not my regular "polished" blog post. This is raw and reads more like a journal entry. It's chock full of half thoughts, run on sentences, and a few double negatives sprinkled in.
For me, for now, this story has a happy ending. I wish this was the case for all teachers out there.
The last few school years have been tough. I know they have been hard on most, if not all, teachers. Over the course of the year, I've seen countless teachers express their own pain and difficulties within this profession.
I've also seen many teachers make the choice to walk away. There was a time when I thought that may be the healthiest choice for me, too and that terrified me.
A part of it that was really difficult for me was that I really struggled with processing and explaining why it was so tough. It wasn't just any one specific thing.
I had a really hard time pinning down what exactly it was and that drove me crazy.
Was it really all things COVID? Like yes, but that wasn't all of it. It wasn't just the online teaching, the stressed out families, the cleaning guidelines, etc. I mean, it wasn't not that, but that wasn't all.
It wasn't just the demands of teaching and the deadlines. I mean, that did add to the stress but that wasn't the just of it.
Was it that I had developed some unhealthy work habits and needed to set more clear boundaries around work? Yes, that was part of it but it wasn't the whole story.
You get the point.
What I did know was this: it wasn't the kids. It was never the kids.
In fact, those kids are probably the only reason that I held on so tightly. I love them fiercely. They are truly the reason I do this.
Quite a few times, especially in the 20-21 school year, I seriously considered if teaching was something that I would be able to sustain any longer. The thought truly broke my heart. 💔
I kept thinking that it was such a shame because I loved it so much and, not to toot my own horn, but I'm good at this.
I'm not perfect but I'm a good teacher.
Slowly but surely, things got better.
Last year gradually felt a bit lighter and this year, it all felt good again. Actually, it felt great. Most days, when heading to work or talking about work with a friend, I would think back on the last few difficult years and feel such a sense of relief.
I loved it again.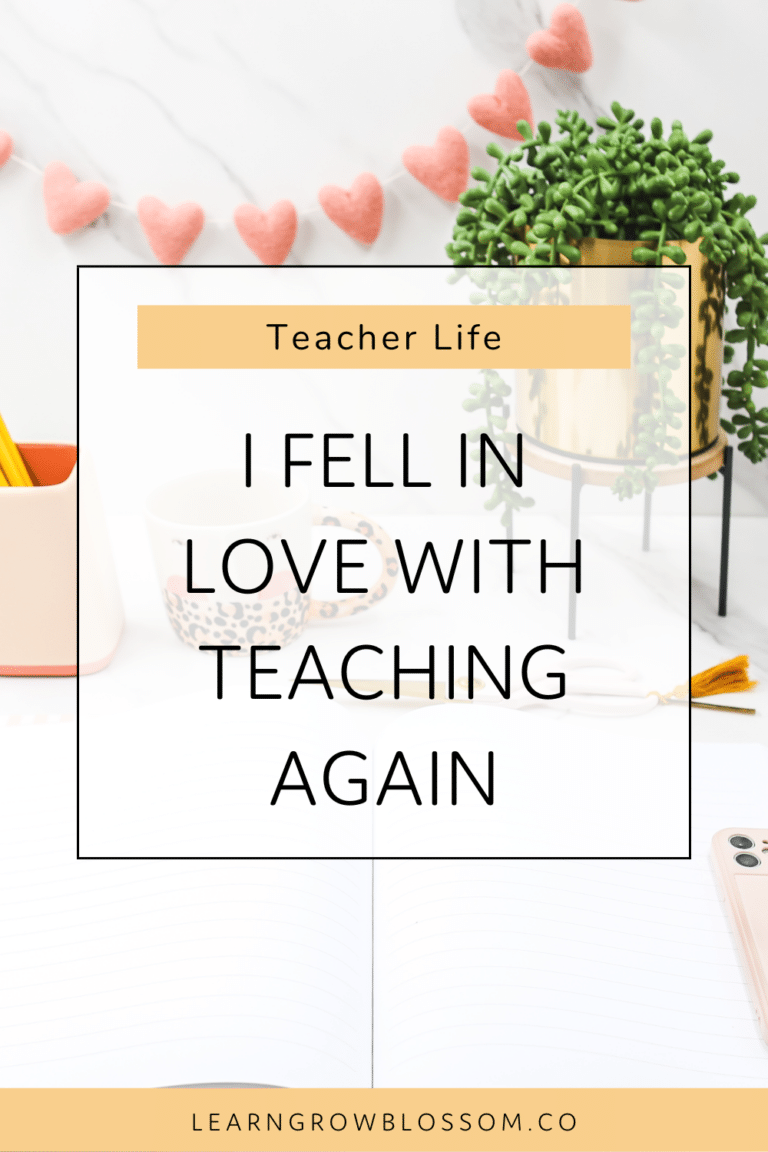 I am so relieved because I didn't know if I would. I hoped for this feeling to return but I didn't know that it could.
As I enter a new season of life, going on medical leave earlier than I predicted before my mat leave, I'm sad to be walking away (for now). But at the same time, I am SO relieved to feel this way.
I am so relieved to be back in a place where I love my career again and am sad to not be returning in January.
Of course, I know that 2023 will bring a whole new host of excitement as I transition into being a new mom. But, for now, I'm sad to say goodbye to my students.
For now, I will hang up my teacher hat (except through all things Learn Grow Blossom) & will be trying on my mom hat very soon.
I'll forever be thankful that I was in a place of loving teaching again when I left so that I have those warm feelings as I head back into the classroom, after my maternity leave. I just know that it will make it a little bit easier.
I am incredibly thankful that 2022 was the year that I fell in love with teaching again, bit by bit.