If you're like me, you can never have enough ideas for whole class rewards. The best part is that these whole class rewards can be used no matter what whole classroom management system you are using. This whole class rewards list is created with upper elementary in mind but many of these ideas could also be used in primary classrooms.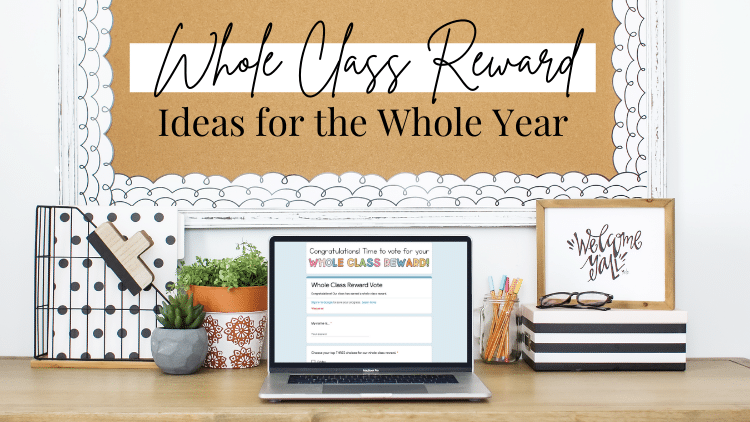 1. Twin Day
Have a twin dress-up day! Students can plan to dress alike and you can even join in on the fun.
2. Decorate the Class
Your class could decorate for an upcoming holiday or create seasonal decorations e.g. spring-themed decorations in the spring. Other ideas are to decorate your classroom door or work on a collaborative bulletin board as a class. I've also had students paint murals in groups to decorate our class.
3. Fun Hair Day
This one is always a hit! Students try out a fun hairstyle and they LOVE it if their teacher participates, too.
4. STEM Challenge
Students love hands-on activities and this one lets them do more of that. There are tons of free STEM activity ideas on Pinterest and TpT. The bonus is that you can find one that connects to your curriculum.
5. Free Seating
Free seating is nice and easy. You toss out the seating plan for the day and students choose their own spots.
6. Extra Recess
Also an easy whole class reward idea, schedule an extra recess for students to play outside. If the weather is too cold, schedule an extra indoor recess.
7. Free Time
Give students a set amount of time where they can choose what they would like to do. You can make a list together of what is acceptable before starting. To make this extra exciting, I'll tell students the date of our free time reward ahead of time so that they can bring something in from home to use for their free time.
8. Electronic Time
This one is always a hot choice in my class. I let students know ahead of time so that they can bring in a device if their parents agree. We are not a one-to-one school but we do have extra devices for students that do not bring one in. I am very clear before starting what is and is not appropriate for electronic time.
9. Watch a Movie
For this reward, I usually split a movie into two sessions since I am not willing to give up 1.5 to 2 hours of class time for a reward. As a class, we agree to start a school-appropriate movie and then to watch the other half the next time we earn a reward. The bonus in doing it this way is that students are HYPED to earn another reward so they can finish the movie.
10. Bring a Stuffy
Students bring in a stuffed animal for the day.
11. Show & Tell
Don't underestimate show and tell in upper elementary. It's wonderful for students to get to know each other and they LOVE to share when given the opportunity. In fact, I wrote an entire post about show and tell in upper elementary.
12. Picnic Lunch
On a nice warm day, take students outside to have a picnic lunch. In the past, I've asked students to bring in blankets or a bring in a towel to sit on. If it's cold or rainy, move desks aside and have a picnic inside the classroom.
13. Prep a Snack Together
This reward idea is also popular in my classroom. My students love snacks and I'm sure yours do too! It's fun to learn to prepare fun snacks together. We've made smoothies and ants on a log.
14. Enjoy a Treat
Buy or make a treat to bring in to share with your students. You could also ask a parent volunteer to make or bring something in.
15. Free Art
Free art allows students to create anything they want with the materials provided to them. I like to give students a selection of different paper, paint, pastels, crayons, pompoms, popsicle sticks, etc, and let them create whatever they wish. I always remind them to make sure they are mindful of how many materials they are using to leave enough for others.
16. Teacher In The Hot Seat
Be forewarned that you need to be prepared to share a bit about yourself with your students with this one. Before starting, it's important to be clear about what questions you will accept. The best way to do a teacher hot seat is to have students submit questions ahead of time so that you can pre-screen them. Then, you answer students' questions in front of all your students. They love to get to know more about their teacher.
17. Fresh Class Layout
Design a new class layout with your students and move the classroom around. Students LOVE to be part of the action and, just like us, they are very satisfied with that fresh class setup feeling.
18. Class Game
Play a game together as a class. You can keep it basic like playing Charades or Pictionary. Another option is to go outside and play a sport or game together. I like to have my students vote on which game they would like to play.
19. Hat Day
Students get permission to wear their hats all day.
20. Mentor a Younger Class
Get together with a younger class within the school and mentor them. You could have students run their centers, help them with an assignment, or read to them.
21. Talent Show
Host a mini class talent show. Let students know about the talent show ahead of time so that they can practice and tell you what their act will be (participation is optional, of course). Then, host the talent show within the classroom.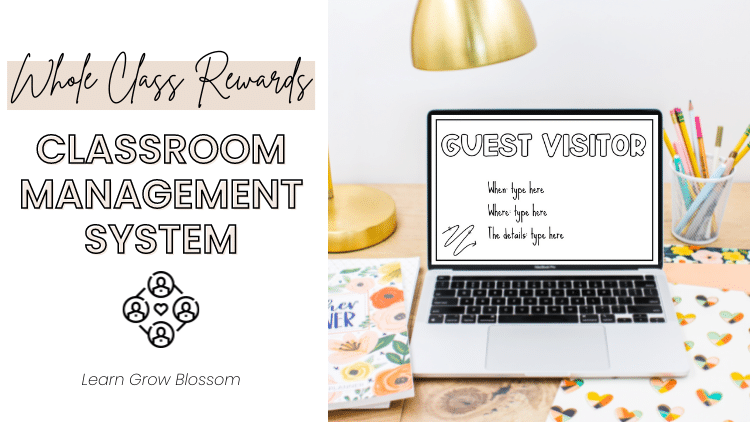 22. Guest Visitor
Invite a guest in to do a fun activity with your class. Some ideas are inviting staff members from your school that don't get to spend a ton of time in your class, like your principal or librarian. You could also invite community members or students' parents. They could come in to do a specific activity or just spend time in class during regular activities.
23. No Homework
If students have regular homework, it is cancelled one day.
24. Pajama Day
Everyone gets to wear their PJ's for a cozy day!
25. Directed Drawing
There are a few ways to do this. Either you can do a directed drawing together as class or students could look up their own directed drawings and do them within a time block. Art for Kids Hub on YouTube is my favourite for directed drawings!
26. Guest Reader
Similar to having a guest visitor, you can invite a special guest to read a book to the class.
27. Open Mic
This one is similar to a talent show but more casual. Host an open mic where students can come up to share a story, a thought, a motivational speech, a joke, etc.
28. Fun Class Project
Come up with a class project together. You could work on a kindness or charity project. You could also decide on an engaging curricular project to work on together as a class.
29. Watch YouTube Videos
Decide on the amount of appropriate YouTube videos to watch. Students love to watch funny or trending videos together as a class. Always preview the videos before you show them.
30. Wear Fun Socks
Invite students to wear their most colourful, fun socks.
31. Play Board Games
Play board games together! If you don't have many keyboard games in your class, you can invite students to bring in games from home. They love to share their favourite games and the best part about it is that they *usually* know how to play them so they can teach their classmates.
32. Online Class Game
Play an online game like Kahoot, Gimkit, Blooket, etc. You can always find one that connects to the curriculum, which is a big bonus!
33. Extra Science Experiment
Students love the hands-on nature of science experiments. Schedule in an extra science experiment for students to engage in.
34. Extra Go Noodle
Even after all these years, students still LOVE GoNoodle. Do a few extra Go Noodles videos or put on one of their indoor recess mixes.
35. Extra Library Time
If possible, schedule an extra library block.
How I Use Whole Class Rewards
I've been asked how I use these ideas for whole class rewards within my classroom. When my class has earned a whole class reward, I have students fill out a Google Form to vote for their top three whole class reward choices. From there, I create an invitation to send to parents so they are informed of the reward date, time and if they need to send anything in.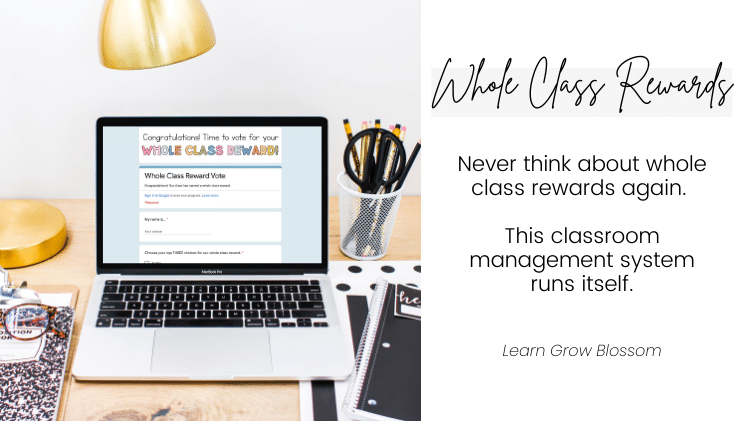 Interested in the resource I use to manage whole class rewards? Check out my whole class reward system here.