Starting your journey as a student teacher can be exciting and overwhelming. You've got this! To help kick your teaching career off on the right foot, here are 9 student teacher tips that will set you up for success.
From graciously accepting feedback to being open to experimenting, these student teacher tips will help you navigate student teaching with more ease and a whole lot of confidence. So, grab your lesson plans, put on your best winning smile, and let's get started on creating a fantastic experience for you and your students!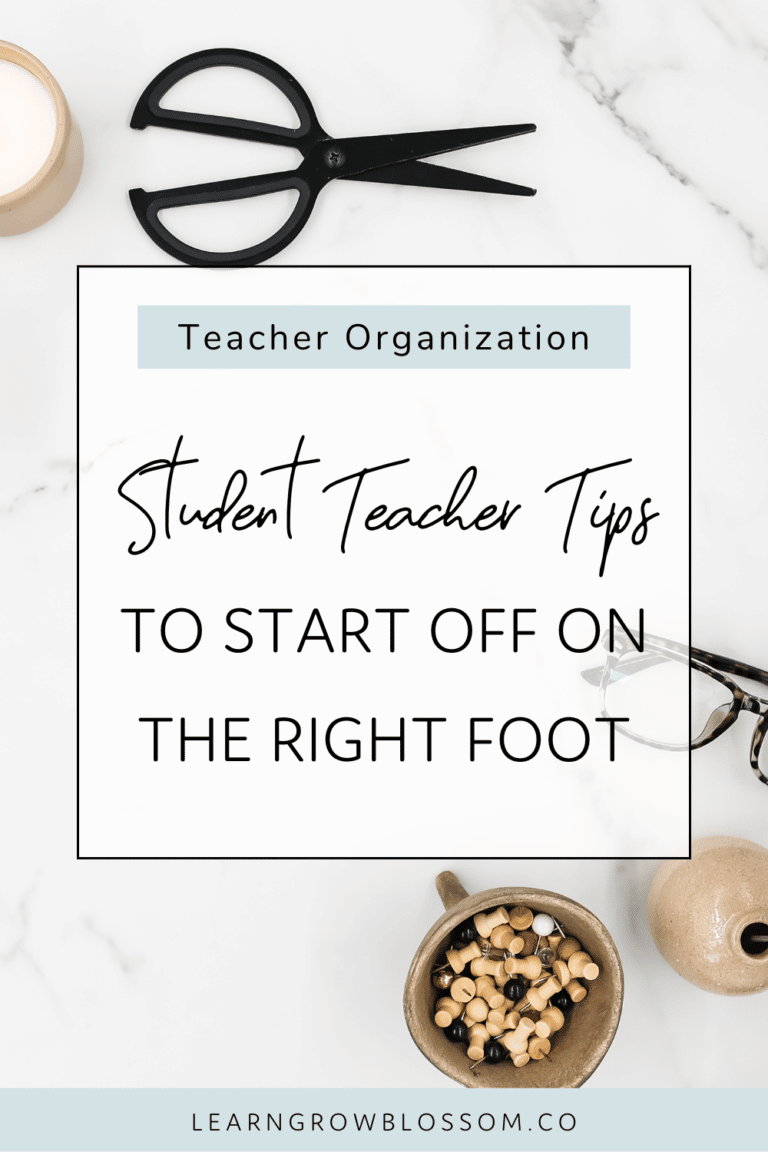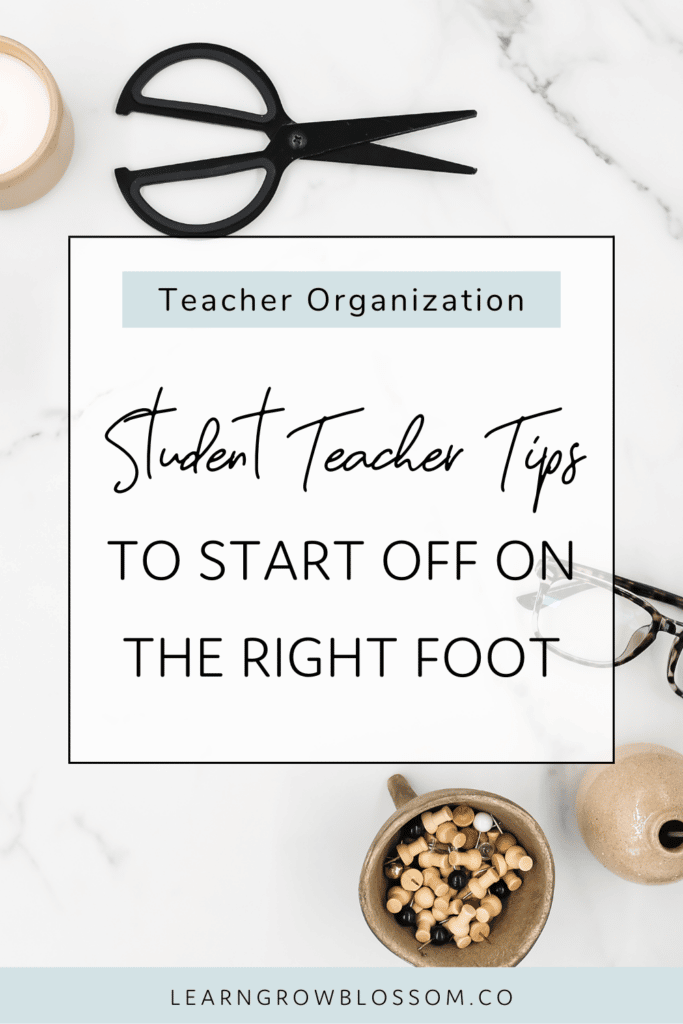 #1 Be Planned & Prepared
This is number one out of my student teacher tips, for a reason. Make sure that you are on top of your game, no matter what. That means that plans are done, you're prepared, and on time. Trust me, it's really not a good look to be late or ill-prepared during your student teaching.
#2 Ask All The Questions
Since student teaching is all about learning, ask all of the questions. Don't worry about asking too many. You know that saying there are no stupid questions? It applies here! It's your chance to ask because once you have your own classroom, you don't have someone as readily available as during student teaching to ask away.
To avoid feeling like you're asking questions all of the time, I suggest gathering any question that can wait in one spot and asking your mentor teacher at one time. That might look like jotting them down in your student teacher binder, in a notebook, or on Post-it notes. But, of course, if you have a pressing question, ask right away.
#3 Accept feedback
Since the whole point of student teaching is to learn, be open to accepting feedback. The best advice I ever got when completing my education degree was, "don't take it personally, take it professionally."
Hopefully, you have a mentor teacher who can give you lots of great feedback in order to help you grow. Trust me, as great as it is for the ego, you don't just want your mentor teacher to tell you that everything is wonderful. You want to hear the suggestions and tips along the way because they will help you get the most out of your student teaching experience.
#4 Collect Ideas
Use your student teaching as a time to collect ideas. Write the ideas that you're collecting down or you risk forgetting. You can gather ideas within your student teaching classroom, you can ask to go observe other classrooms, and you can even find great ideas by browsing the internet and social media. Jot the ideas down as you find them in your student teacher binder or in a notebook.
Remember, though, you don't have to try all of the ideas that you come across. The point of collecting ideas is so you have them stored up to go back to when you have the time and capacity to try something new.
#5 Pick a Few Areas to Really Shine
Although it's important to give your student teaching your best effort it's also important to be realistic and know that not everything needs to out of the box. What I mean by this is it's not realistic, once you work up to teaching most of the day, everyday, to have every single lesson be a showstopper.
This doesn't mean that I'm suggesting that you slap your lessons together in the name of self-care and boundaries but some a middle ground of high-quality lessons and then a few lessons for the week or a lesson every day where you will give that extra effort to try something new and really show how you can shine.
#6 Experiment
Back to that point about how student teaching is all about learning which means that it's okay to make mistakes or to have things fall flat. I highly encourage you to experiment. This is the time to try that new fun project idea or a cool new way to engage your students.
What's the worst thing that happens? It doesn't work out and you reflect, get feedback from your mentor teacher, and tweak it as needed. The best thing that comes out of it? A whole lot of learning because you didn't hold back due to fear. That's where the real magic happens during student teaching.
#7 Connect With Your Students
Find ways to connect with your students from day one. Write the class a letter of introduction sharing a little bit about yourself, how long you're staying for, and how excited you are to meet them. This student teaching resource includes a student teacher introduction letter template.
Once your student teaching has started, take every opportunity to get to know each student, especially the ones that might be a bit harder to get to know. Ask them questions, spend time with them, and dish out positive reinforcement.
#8 Introduce Yourself to Parents
Introducing yourself to students' parents is also a great idea to increase their comfort level with having you in the classroom with their children. I suggest also writing a letter to parents. A paper copy of this letter could be sent home with students or it could be emailed to students' parents. In this letter, talk a bit about yourself and share what you're most looking forward to out of your student teaching experience. Grab a meet the student teacher letter template here.
#9 Find Out Expectations & Follow Them
During your student teaching experience, it's vital to follow the expectations that your university has outlined as well as your mentor teacher's expectations. To do this, ensure that you know the expectations ahead of time. It's also important to share the university's expectations with your mentor teacher to ensure that you're on the same page. This will avoid any questions or miscommunications that might occur later in your student teaching experience.
As you begin your student teaching journey, remember you're about to gain valuable experience, learn a lot, and have a blast in the process. So, take a deep breath, put these student teacher tips into action, and let yourself enjoy the experience. Remember, feedback is your friend, and have fun experimenting and trying new ideas. And don't worry if you need some help, we're all in this together! Reflect on your progress, give yourself a pat on the back, and enjoy the journey!
Make Student Teaching Even Easier
Grab this student teacher binder resource to have everything you need for student teaching, right at your fingertips. It includes everything you need to assemble a student teaching binder as well as bonus letter writing templates to introduce yourself to students, your mentor teacher, and to students' parents.
You'll find all the templates you need for:
Cover & divider pages
Class list
Seating plan
Student teaching timeline
Important info
Classroom routines
To-do lists
Class schedule
Undated monthly calendars
Lesson plan
Daily plan
Weekly plan
Unit plan
Student teacher reflection
Mentor teacher feedback
Ideas I love pages
Questions I have pages
Observation notes
Anecdotal notes
Meeting notes
General note pages