Having solid lesson plans for the first day of school helps to ease my first-day jitters. I like going over the general plan with students at the start of the day so that they know what to expect, too.
Want a lesson plan checklist that I use to help create lesson plans for the first day of school?
First Thing
Having something set up for students to do immediately when they come inside the classroom helps the initial start of the day to go more smoothly. I find that on the first day, students come in at different times and it takes us longer to get started.
I leave instructions on my Promethean Board welcoming students in and asking them to do whatever activity that I have set out on tables.
When I taught first graders, I used to put out building blocks or playdough to play with. My students in older grades have really enjoyed colouring sheets to just help ease them into their first day.
Some students are feeling very shy and it gives them a great point of entry into our class without them needing to be very social right away.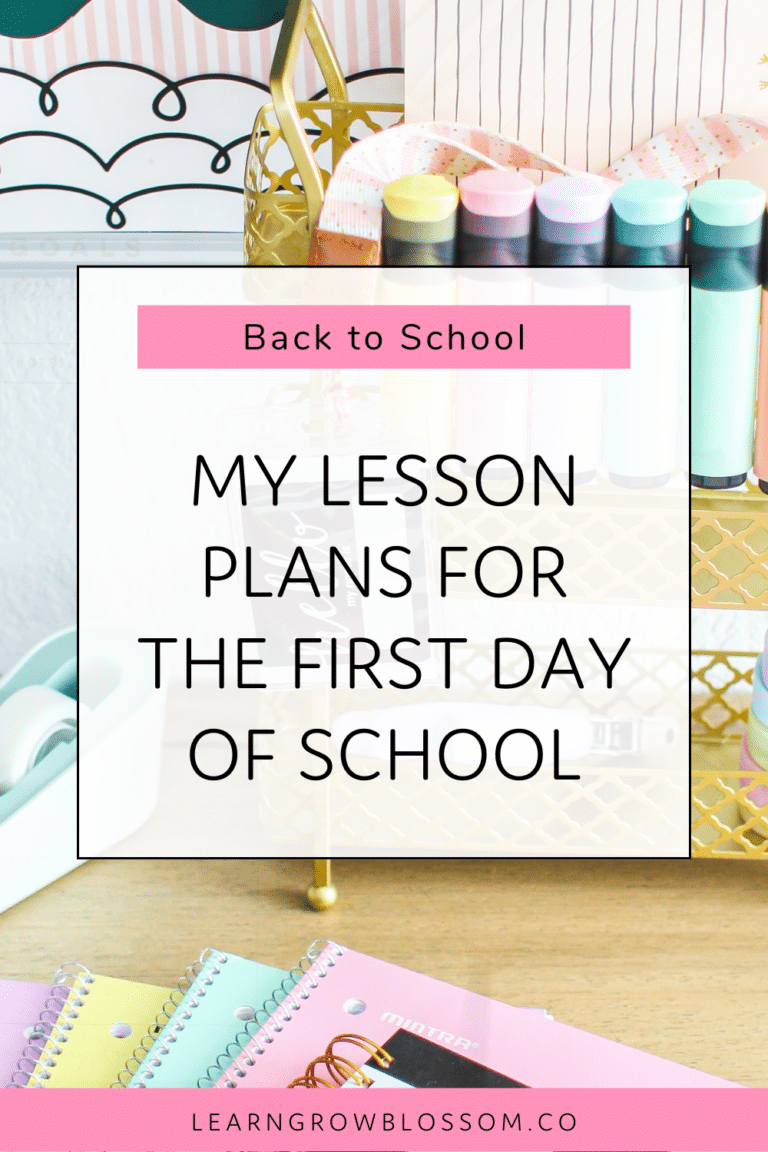 In The Morning
Once all students are in and I've taken attendance, I like to let students know what they can expect for their first day. I will bring up my lesson plans for the first day of school on the Promethean Board and give them the gist of what to expect.
Read Aloud
Afterward, I like to read a good first day of school book as that often helps to break the ice. It eases students' nerves, as well as my own. Some recommendations for first day of school read alouds are: All Are Welcome, Our Class Is A Family, The Day You Begin, and Wemberly Worried.
Sort Supplies
Next, I like to get the organization of school supplies out of the way. Students are usually super excited to bust into their supplies and open everything up. Depending on the year, if I am pooling supplies, then I will set out bins for certain categories of things so that students can take out those supplies one by one and put them in those bins. For example, I will call out that students will find their pencils and put them all into one bin together then I will call out that it is time for them to find their markers and put them all in a different bin. This is always the most chaotic time of day so I prefer to just get it out of the way.
Introduction & School Tour
Then it's time for me to spend a bit of time talking to students about me so they feel more comfortable.
I also bring students on a school tour especially if we have students that are new to our school. On our school tour, I will show them the various classrooms they'll be going to and we will also take a walk outside so that we can talk about recess boundaries.
Classroom Procedures
I like to talk about procedures and practice those procedures in the morning and in the afternoon. I like to go over all the procedures that students need to know about our classroom. Everything from when a good time to go to the bathroom is to what they need to do when they enter the classroom in the morning. Click to how I teach my students classroom procedures in the first two weeks of school.
Overview of the Year's Learning
I always want to get students excited about what we will be learning that year so I like to do an overview of what we'll be learning. Sometimes I'll also ask students what they're interested in learning about so that if there are things that I can make sure to include, I'm sure to do that.
In The Afternoon
Read Aloud & Classroom Procedures
After lunch and recess, I like to start the afternoon with another read-aloud. After, we continue where we left off with our discussion and practice of classroom procedures. I like to have students actually get up and practice those procedures as it serves as a built-in brain break. If not, it can be a lot of sitting and listening for them.
Student Surveys
Next up, I like to have my students fill out a student survey. This can be done on paper or electronically. These are so valuable to help me find out more about them. I like to have them do this in the afternoon because at that point they usually feel a little bit more comfortable and will naturally be more honest.
Class Mission Statements
Afterward, we talk about what we would like our classroom community to be like. We will have a discussion about how they would like to be treated in their class by both their classmates and myself as well as how they want to feel in our classroom.
This leads us into an overall discussion about classroom management and the expectations or rules you have for your classroom.
At this point, I have students start brainstorming what they would like to include in our class mission statement. First, I show them some mission statement examples so they understand what the end goal is. Then, I share with them that I will read over their mission statement ideas and pull out common trends so that we can write one together the next day.
Art Time
My absolute favourite way to wrap up the last day of school is with an art project or a craft. I find this is very helpful and getting students to talk with one another and also to feel comfortable completing a task inside of our classroom. As students are working, I will walk around the room and get to know my students better. My favourite thing to do is to choose an art project or craft that is based on one of the read-alouds that we read that day or to find a self-portrait project.
Grab your free download of my lesson plans for the first day of school. I've left start and end times out so that you can take the activity ideas and fit them into your schedule.