Virtual learning is hard. The hunt for fun Google Meet and Zoom activities for students shouldn't be.
That sounded like that commercial… I can't quite peg which commercial it is but I bet you know what I'm referencing.
Anyway, for real, coming up with Google Meet and Zoom activities for students shouldn't be keeping you up at night.
Below is a list of 25 Google Meet and Zoom activities for students along with a free downloadable list.
List of 25 Google Meet and Zoom Activities for Students
Enter your info below to download the (free) list of 25 Google Meet and Zoom activities for students. These activities are perfect for grades 3-5.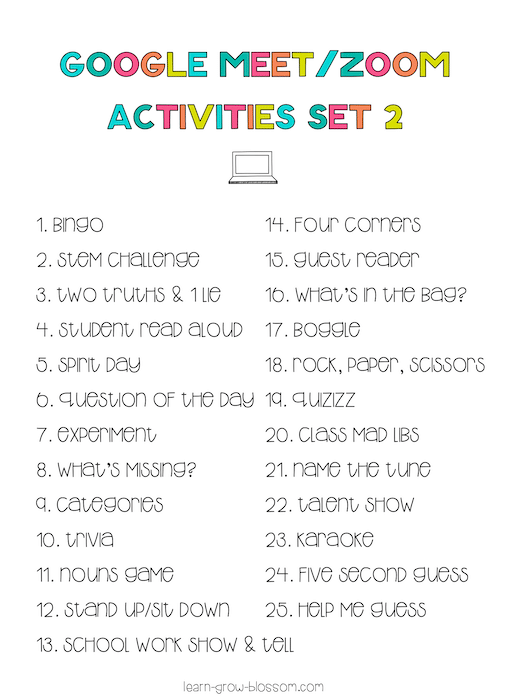 1. Bingo
Play bingo together! If you use this free Bingo card website, you can even customize the cards. You could use it to review vocabulary, practice fractions, decimals, you name it!
2. STEM Challenge
Give students a STEM challenge with materials they have at home. Leave the challenge open-ended enough that they can choose the building supplies based on what they have on hand. For example, you can challenge them to build a tower that can hold a stuffed animal of choice.
3. Two Truths and One Lie
During your online meeting, give students time to write two truths and one lie about themselves. Encourage them to mix up the order of the truths and the lie so the lies aren't all at the end.
Students each take a turn reading out their three statements. Their classmates will guess which was the lie by typing in the numbers 1, 2 or 3 in the chat. Once everyone has guessed, that student will reveal which one was the lie.
4. Student Read Aloud
Give students a chance to participate in class read-alouds. Students can sign up to read ahead of time or they can volunteer by raising their hand during the online meeting to read a part of a book. The easiest way to do this is probably to share a digital book on your screen. Epic has some great ones!
5. Spirit Day
The ideas for spirit days are endless. Some ideas are PJ day, hat day, wearing school colours, 80s day, or silly socks day.
6. Question of the Day
A sharing question is shared with the class. Studennts have an opportunity to share their answer.
Sharing can happen in many different ways. Students can each have a turn to unmute and share verbally. They can share by typing their answer in the chat. You can even set up a Padlet or Flipgrid board for students to share on.
7. Science Experiment
It's no secret that students love a good science experiment! There are a ton of easy and engaging science experiments out there that you can do. Students can tune in and watch during an online meeting.
Here are a few links for some ideas:
8. What Is Missing?
Show students a bunch of items. These can be items that you set out on your desk or even a certain area of the classroom or your home.
Then turn your camera off and remove an item. The first student that can figure out which item was removed is the winner.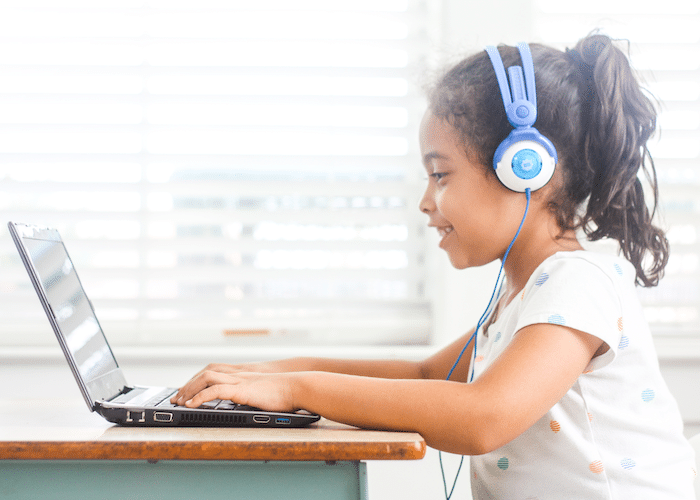 9. Categories
Play Scattegories with your students. Share your screen to show the Scattegories list. Click on the categories button and the "make child friendly". You can even type in your own categories if you wish.
10. Trivia
There are tons of ways to play trivia with your students. You can have students in groups or have students answer questions individually.
If you have any of those Brain Quest quizzes laying around, use them! They have the perfect questions for a good trivia game. You can also find a multitude of websites with different trivia questions. You can even do themed trivia games.
11. Nouns Game
For this game to be most successful, I recommend reviewing nouns with students. To play this game, the first person to write a person, place, animal and thing that start with the letter on the online dice, wins. I would have students type their answers in the online meeting chat so there is a clear winner.
12. Stand or Sit
Ask students yes or no questions. Remind them to have their camera on so that others can see what their answers are. If their answer is yes, they will sit down. If their answer is no, they will stand up.
Some question ideas are:
Do you enjoy doing arts and crafts?
Do you have a pet?
Are you having a good day?
13. Work Show and Tell
This is an academic spin on show-and-tell. Do you have students dying to share a writing piece with your class? Well, me too! That's where this idea comes in. In work show and tell, studentns have a chance to share any piece of work that they are proud of.
14. Four Choices
This game is just like four corners but instead of standing in 4 different corners for students to show their answer, they will type a number from 1 to 4 in the chat.
Here is an example, what scares you the most?
1- sharks
2- monsters
3- clowns
4- snakes
15. Guest Reader
Invite a guest reader to come read to your students. This can be a student's parent, the principal at your school, or even one of your own family members or friends. Students love listening to someone else read. To make it extra fun you can have the guest reader choose a book that they want to read and have them explain why they chose that book.
Get the Google Meet and Zoom activities for students list freebie!
Want the list of activities to do with your third, fourth and fifth graders? Enter your details below and you'll download it immediately!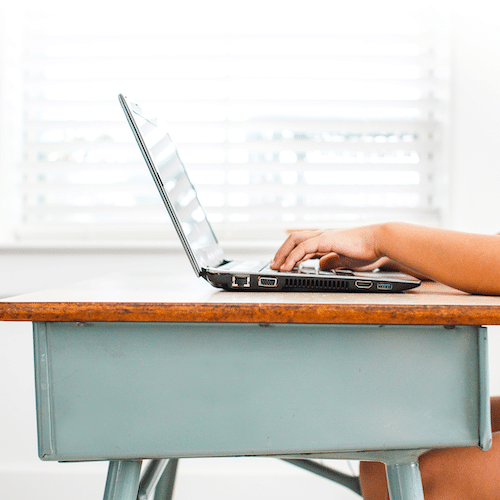 16. What Is In The Bag?
There are a few different ways to play this. You can simply show students a bag and have them guess what is inside. You can also have them ask yes or no questions to get clues as to what is inside the bag. Whichever student guesses what is inside correctly first, wins.
17. Boggle
Play Boggle the traditional way with students. The only difference is either you will show a traditional Boggle board with your camera in the online meeting or you can also share your screen and use this website to show a Boggle board. The cool thing about the website is you can increase the difficulty as well as change the grid size.
18. Rock Paper Scissors
Call out to students to play rock-paper-scissors. If they tie, they can play best two out of three. The winner will then play the next student in the teachers grid on the online meeting.
The winner will always get to be part of the next game so it's played like a tournament. See who the rock paper scissors champion is. The champ is the student that stayed in the most amount of games.
19. Quizizz
My students absolutely love to do Quizizz. There are tons of fre quizzes that are already created that you can do. Some are just for fun and others have an academic focus. For added engagement, you can create a quiz about your class or about you. Your students will love it! I promise.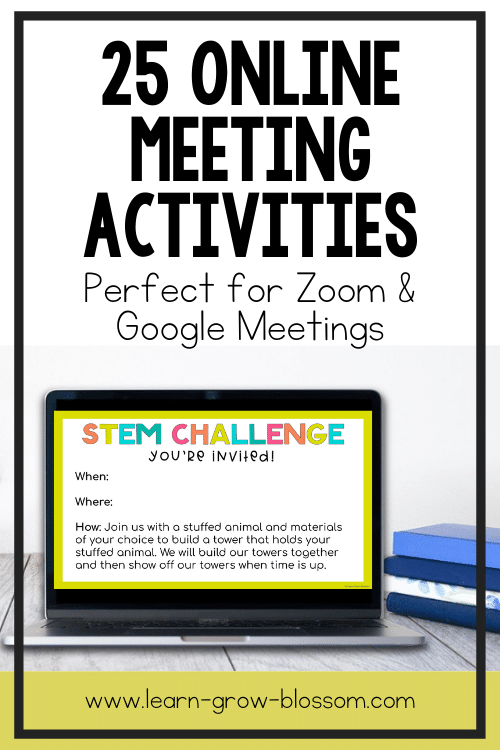 20. Class Mad Libs
Review the parts of speech with your student. Then, fill in the Mad Libs page on this website. Read The Mad Lib out loud and I promise your students will be ROFL.
21. Name The Tune
This one is simple. Play a clean version of a song that students will know. The first student to type the correct song name in the chat wins that round. You can make it more difficult by playing songs from your childhood or songs that maybe not all the students will know.
22. Talent Show
I suggest giving students a heads up on this one ahead of time so they can prepare. They can bring a finished product to the talent show to showcase such as a lego creation or a beautiful painting. They can also do a short live performance such as a prepared dance routine. I suggest giving a time cap to ensure the talent show doesn't go on for hours.
23. Karaoke
Find some clean karaoke versions of songs on YouTube and share your screen so students can see the lyrics. Everyone can sing along with their mics off. You can even offer for a few students at a time to unmute themselves if they wish.
24. Five Second Guess
Each student gets a turn to name three things that fit into a category that you choose. They must name those three things within five seconds. For added fun share your screen with a big timer set to 5 secondns. To help students be successful, make the categories broad like food or animals.
25. Help Me Guess
This game is played just like headbands. You can write out different cards ahead of time, use the actual headbands game, or even get the heads up app on your phone.
However you decide to play, you will hold up the card or your phone to your forehead so your students can see what the card says but you cannot see it. Your students will give you clues to try to help you guess what your card says.
More Google Meet and Zoom Activities
Did you enjoy this list? Read this blog post for 25 more Google Meet and Zoom activities for students. You can never have virtual activities in your back pocket. Am I right?