Why Gingerbread Man Activities?
It's the most wonderful time of the year! I hope that line had you singing it instead of reading it. I LOVE doing gingerbread man activities at this time of year. It's SO much fun to theme everything and it's a great way to keep students' engaged in the few weeks leading up to the holiday break.
For real though, I love this time of year in the classroom. Of course, things get a little crazy before holiday break but it's the most fabulous time to theme activities for some extra fun.
My all-time favourite theme is a gingerbread theme. In the first few years of teaching, a friend of mine and I would get together and plan four, week-long themes leading up to Christmas.
At this time, I would do gingerbread man activities for one week but I love it so much that now I do gingerbread man activities all the way up to Christmas. I've outlined some of the themed gingerbread man activities below.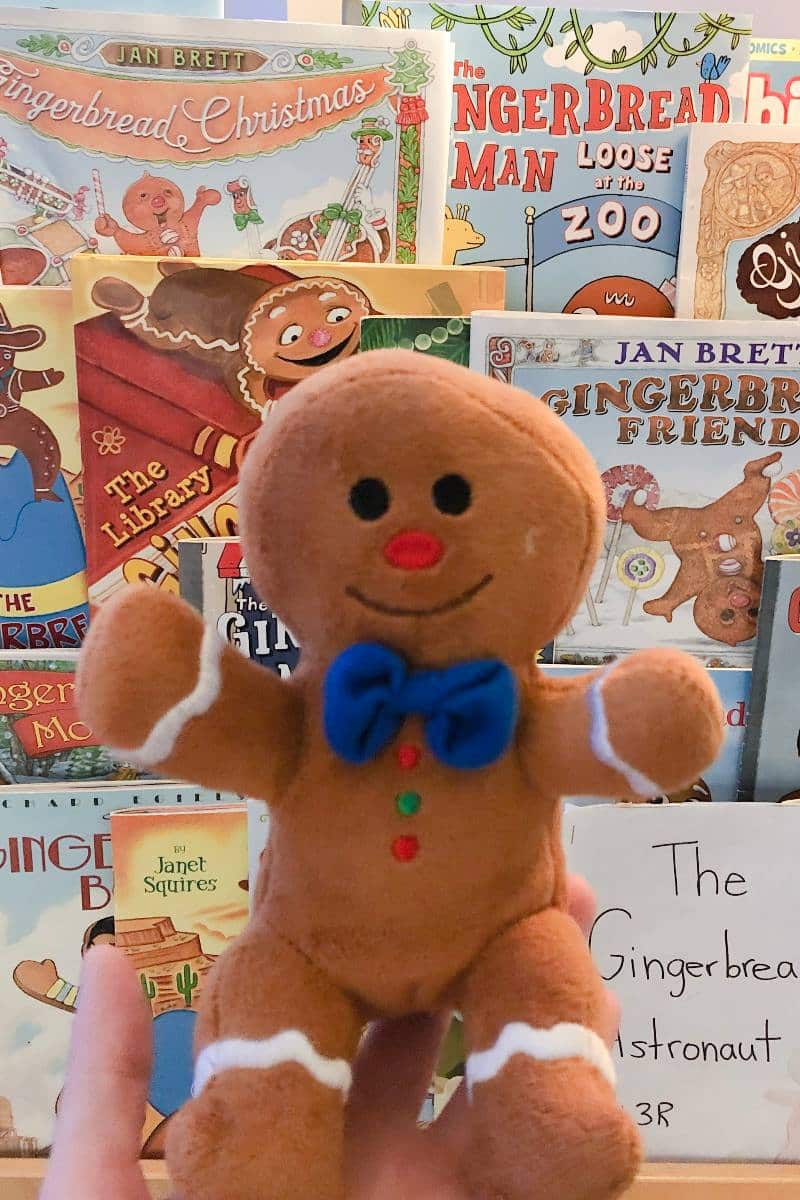 Gingerbread Book Comparison
One of my students' favourite gingerbread man activities is reading the different fractured fairy tale versions of The Gingerbread Man book.
I love to read a few of these picture books each day to compare and contrast them to one another. There are a few options to keep track of the different gingerbread man books read. One option is to compare books as a class and another option is for students to compare books individually.
To compare books as a class, filling out a large anchor chart works best. Check out Pocket Full of Preschool's example of her Gingerbread Book Comparison anchor chart below.
If you'd like students to keep track of notes on each book individually, I've created a resource just for this! Check out my Gingerbread Book Comparison resource.
To get my book list of all the books I recommend reading with your class, click here!
Gingerbread Man Narrative Writing
After comparing elements from the various books, students love to pick a theme and write their own fractured fairy tale based on The Gingerbread Man. It's an excellent way to teach the importance of setting, dialogue, and theme.
If you're looking for a resource to help your students create their own gingerbread stories, click here to check out what I use in my classroom.
Gingerbread Themed Procedural Writing
I also have my students write a few procedural writing pieces interspersed throughout our gingerbread man activities. My two favourite prompts are: How to Catch and Gingerbread Man and How to Make a Gingerbread Man.
Again, if you're looking for a resource to help students stay organized in completing this writing, click here.
STEM Challenges
STEM challenges are some of my students' favourite gingerbread man activities. I love that theses challenges incorporate science, technology, engineering, and math. STEM challenges are so great for getting students working in groups and working on their social skills.
I created a resource to help make gingerbread STEM challenges easy and low prep.
It is important to me that students use the design process so I included design process postures and designed the student pages to guide them through this process. My kids were SO enthusiastic every time we started a new challenge. They ate these up! You can check out this resource by clicking here.
Gingerbread Puffy Paint
No matter your students' age, they get SUCH a kick out of making puffy paint. I love getting messy and making things like this together because they get so excited!
I love to use Sugar, Spices & Glitter's Gingerbread Man Puffy Paint Recipe. It smells like gingerbread which adds to the fun! We love to stick pompoms, glitter, or other odds and ends into the puffy paint before it dries to "decorate" our gingerbread men.
Gingerbread Salt Dough Ornaments
I love incorporating our gingerbread theme into our art classes during these weeks. Students love creating their own salt dough gingerbread people. These can be made with a small hole punched at the top to turn them into Christmas ornaments. These make fabulous holiday gifts for students to gift to their parents or other loved ones.
Here's a link to a great salt dough recipe. To get the salt dough made, I've done it two different ways. A few times I've made the salt dough with my students so they could experience the entire process. Other years, I've asked a parent volunteer to make the salt dough ornaments for the class.
After the salt dough is made, we paint them. The best tip I have for you is to use acrylic paint! Tempra paint does not set well on the salt dough. We learned this the hard way one year and had to cover our paint up after it dried all crackly.
Gingerbread Cookies
On the last day before the holiday break, I love having gingerbread cookies for students to try. There are always some students that have never tried gingerbread cookies before so it's fun to have them try!
Here's an option for a gingerbread cookie recipe to share. Here is a healthier version for you, too! Since we are an APPLE School we must ensure that we are sharing healthy versions of food so the second recipe is the one I use in my class.
In the past, I've made the cookies myself to share with the class and I've also asked a parent volunteer to bake cookies for us to share. There is usually a parent that is eager to bake for us.
Gingerbread On The Run
For added fun, a few times I've taken the gingerbread cookies and hid them somewhere in the school and left notes behind in a sort of "scavenger hunt" for students to find their snack. They LOVE this because it's as if their gingerbread cookies run away, too. 
I make a big show about how the gingerbread cookies aren't there anymore and students create wanted posters to get their gingerbread cookies back.
If you have any fantast gingerbread man activities, I'd love to hear them! I'm always looking to add more fun to my favourite themed weeks!