Are you hearing a whole lot of talk about how important it is to be taking anecdotal notes? Maybe you're wondering when you should be taking them or what they should look like. I'm going to share real-life anecdotal note examples (without student names, of course) and different times that I like to gather those notes.
I wasn't always sure when and why I should take anecdotal notes. With each passing year, I'm getting the hang of it and it's helped my teaching, tenfold. I am hopeful that by sharing anecdotal note examples with you, that you will be able to get the most of note-taking, too.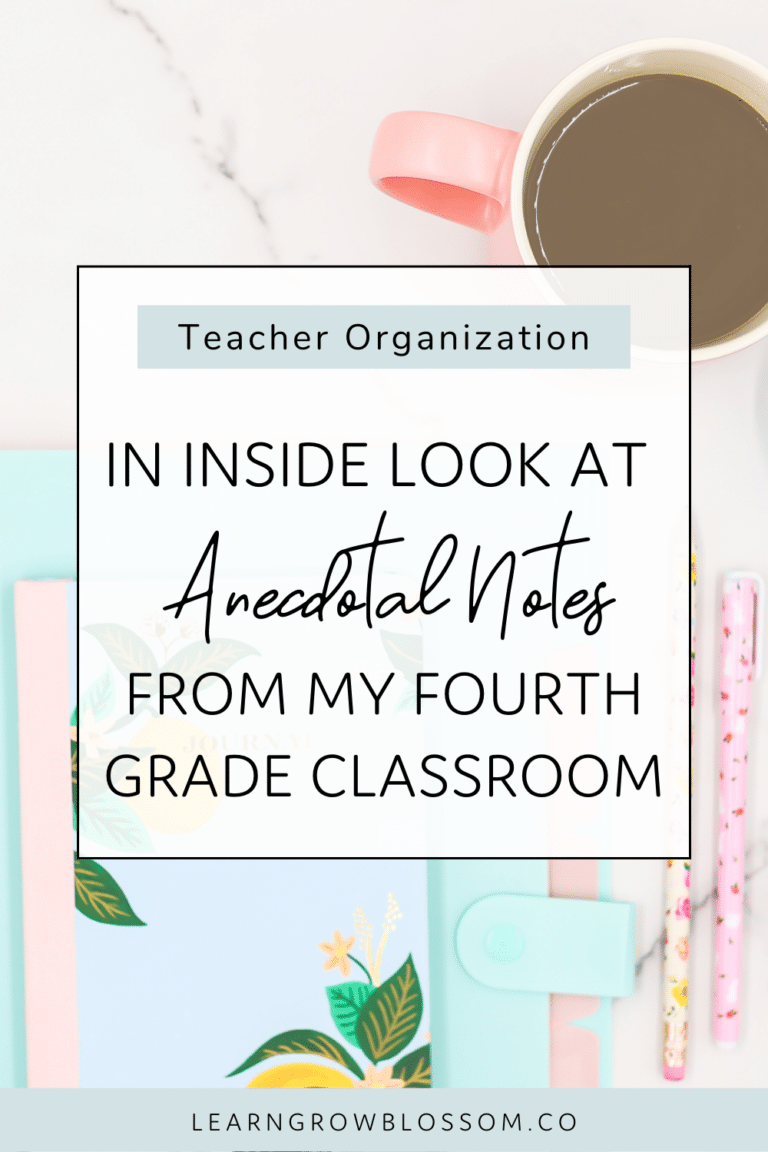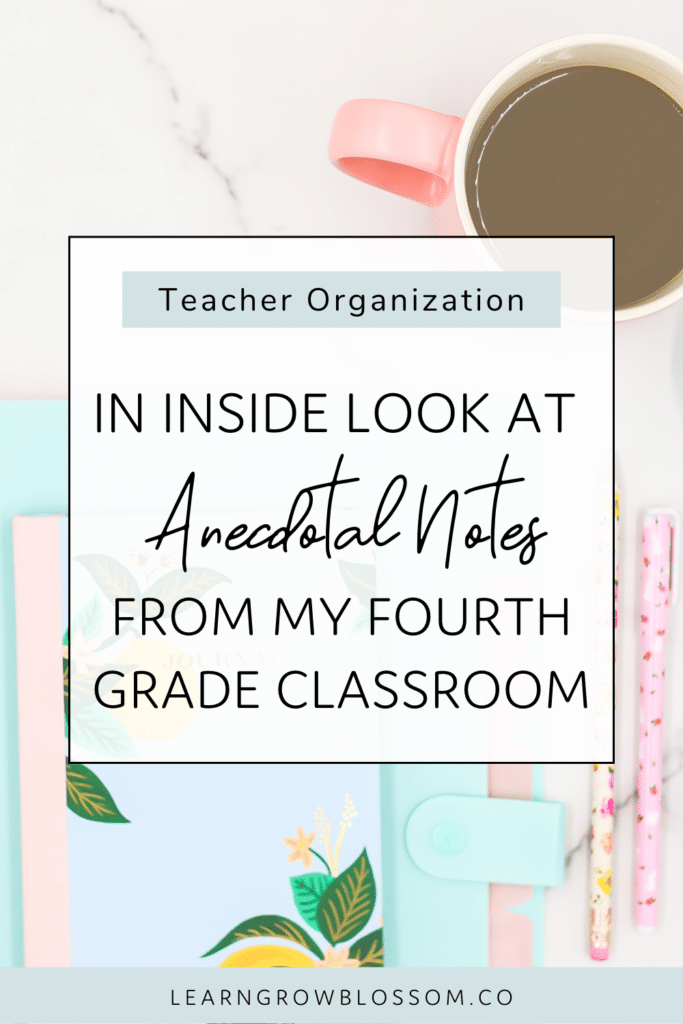 Academic Notes
This is probably where I take the most notes. I'm constantly writing down key things that I notice about students' learning.
This helps me in many ways. First, I can look for trends. If multiple students are struggling with a skill or concept, we can review it as a class. If only a few students are struggling, I can review with them.
Second, it allows me to see their growth over time. I love looking back through my notes, months later.
Third, I can more accurately write report card comments and Instructional Support Plans.
Fourth, I can give parents and/or administration a clear picture of what I'm seeing in class, in terms of learning.
Anecdotal Note Examples
Reading Conference Notes
Nov. 2nd – Tested sight words. The student got 32/40 pre-primer, 28/52 primer and 6/41 grade one sight words. Work on sight words and vowel sounds.
Nov. 9th – Difficulty completing word work on time. Needs practice sounding out CVC words.
Nov. 17th – We practiced the sight words he didn't know yet.
Writing Conference Notes
We went over the student's final personal narrative piece. We talked about how to improve in paragraphing, dialogue, and adding in transition words. He chose to improve the writing piece and hand it back in.
Math Notes
The student likes to draw groups as a multiplication strategy. She's confident with that strategy but it isn't efficient with double-digit multiplication as she's making counting errors. We practiced cross multiplication and skip counting on a hundred chart. We will keep practicing.
Amazing Moments
These are my favourite notes to write. I love taking note of those amazing day-to-day moments. Later on, I love sharing these with parents in a positive note home. These notes also make great leads into report card comments.
By "amazing moments" I mean all those beautiful things we see our students do. Things I jot down are: helping out a classmate in need, rising up as a leader, and being very motivated to improve in a certain subject.
Anecdotal Note Example
Student gave up her seat for another student today, without being asked. She knows that he loves to sit in a particular spot and can become upset when he needs to change places. She noticed that he wanted to sit there and she invited him over and moved to another spot.
After An Incident
These notes are not as fun to write but they are probably the most important. After a student has an incident or after a particularly rough day with a student, I take detailed notes.
These notes come in handy in a lot of different situations. First, they help give parents, administration, or anyone on that student's team a good picture of things going on. Please note, I do not share these notes with parents directly, but they help to jog my memory before a parent meeting or before doing a parent phone call.
Second, these notes are great for looking back to get a good idea of how the student has improved over the course of the year. Sometimes it can be easy to lose sight of the progress we have made with a student.
Notes are also useful when writing Instructional Support Plans or report cards.
Anecdotal Note Example
There was a physical altercation at recess. X called student Y a name. Y pushed him. X pushed him back. Both students admitted to their part in the altercation. They decided they should each miss one recess as a consequence. We reviewed that if there's an issue we use our words, not our hands. If that's not working, they need to find a supervisor.
Group And Partner Work
During group or partner work, I tend to get very rich anecdotal notes. It's a great time to note skills and concepts the students are understanding, especially if they are working on a project together. It's also a great time to see which students are stepping up as leaders and which have great social skills.
Anecdotal Note Example
The student tends to be very passive when working with a partner or in a group. She is working on sharing her opinion and asking what she can do to contribute.
Notes From Another Teacher
At times, I will record notes about a report that I receive from another teacher. These notes can be things that another teacher has noticed that have either been desired or undesired behaviour.
I find it very useful to take note of how my students are behaving during unstructured times, when they're not with me. I take these notes from reports during recess, lunchtime, or even when a student is with another teacher during another class block.
Anecdotal Note Example
The student was asked to stay within recess boundaries 3 times by the same teacher. When approached, she responded rudely. We reviewed recess boundaries and also discussed how to respond to others in a respectful way.
Wondering how I organize my anecdotal notes?
Want anecdotal note templates?